Judith August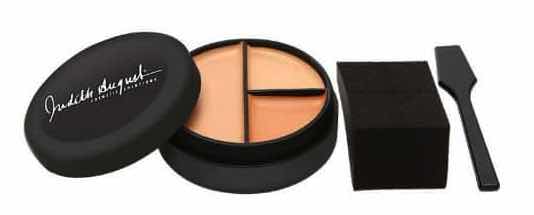 DISCONTINUED Special Care Cover

How To Cover Skin Redness or Rosacea Need a concealer or foundation to cover rosacea or sensitive, red skin? When your skin is red and sensitive, you need Special Care in every way. Special Care Cover was developed to be the most gentle and effective foundation and concealer to cover redness of skin without being heavy. If you have a medical condition called Rosacea, or simply clusters of broken capillaries, acne scars, or sunburn, a concealer with yellow undertones will erase the redness, bringing your skin tone back to normal. A must have concealer in medi-spas, dermatologist, and plastic surgeons offices, it helps conceal and cover up red and sensitive skin due to dermabrasion, chemical peel, and laser surgery. A special blend of ingredients protects sensitive skin, including pomegranate, shea butter and aloe vera. These ingredients, plus two UV blockers, help retain moisture while counteracting "free radicals". If you breakout from spicy foods, extreme heat, allergic reactions, stress, or any stimulating type of ingredients, this foundation/concealer formula will help cover up any redness that appear on your face, neck, or hands. Use as an under eye concealer Have a purple or blue tint under your eyes? This beige concealer and yellow corrector with help neutralizer and cover your dark under eye circles. Shades in the 3 part compact can be mixed to cover a range of skin tones from light medium to medium dark Cancels red, bluish, or purple discoloration Provides opaque coverage without being heavy Used and recommended by skin care professionals nationwide Includes free blending sponge & cosmetic spatula Product Ingredients: Medical grade petrolatum, Beeswax/Cera Alba/Cire d'abeille, Butyrospermum Parkii (Shea Butter), Talc, Tocopheryl Acetate (Vitamin E), Aloe Barbadensis Leaf Extract, Punica Granatum (Pomegranate) Extract. May Contain: [+/- CI 77891 (Titanium Dioxide), CI 77489, CI 77491, CI 77492, CI 77499 (Iron Oxides), CI 77288 (Chromium Oxide Greens), CI 77019 (Mica)].
 
DISCONTINUED Special Care Cover
SIZES:

3 colors
$24.00
............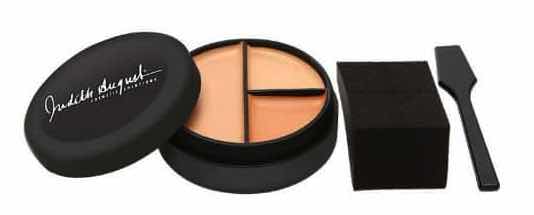 Discontinued!
Details


Best Makeup Setting Spray     Bottle <!br> <!/span><!br>


Make It Stay, Make Up Spray is the best makeup setting spray for all types of makeup application. Great for under heavy lights and humid weather. Keep makeup from fading and looking perfect all day. From everyday makeup, to tattoo, bruise, scar, birthmark, and port wine stain cover concealer makeup. Product Ingredients: SD Alcohol 40B (Alcohol Denat.), Water/Aqua/Eau, Acrylates/Octylacrylamide Copolymer, Triethanolamine, Propylene Glycol, Fragrance(Parfum), Benzyl Benzoate, Methylparaben.

$19.00
Free Shipping*

Invisible Stockings     Bottle <!br> <!/span><!br> This item is DISCONTINUED by the manufacturer.




HATE NYLONS?… the tugging and bunching, the way they fall down, "just a bit" and hinder a long stride. Remember the last time you were "out on the town" and suddenly, a run! Invisible Stockings™ to the rescue! This beautiful shimmering color tint gives every woman's legs the "sunkissed" stocking clad look without nylons, every season of the year. Natural "Summer Bronze Tint" allows every skin tone to shimmer in the light Great with short skirts & bathing suits. Perfect on shoulders, décolletage, upper arms. Diminishes small imperfections like spider veins and freckles. Long lasting formula for morning into night wear. Removes easily with soap and water or Killer Cleanser. Includes free Buffing Pad. Applies easily: Use your fingers or the Judith August Swirly Brush Great tip: Diminish the look of larger imperfections such as Bruises, Birthmarks and Veins by simply drawing the lines away with the The Everything Pencil™; then apply Invisible Stockings for a smooth, summer bronze tint. Special Offer: Try Judith's Invisible Stockings Kit which includes Judith's Swirly Brush. Buy the Kit and Save!

$25.00
Free Shipping*

August Minerals – Pressed Powder Foundation     Fair <!br> - Other sizes/options. <!/span><!br>


A long wearing, silky smooth powder that can be used alone as a foundation, or whisked on lightly as a setting powder. This product is light in texture but provides beautiful coverage while giving a finished appearance that helps cover skin imperfections. Benefits: Adheres like a second skin and gives make-up "extended wear". Provides the perfect matte finish. Contains ingredients that help increase oil absorption. The low micron sized particles help reduce the sign of fine lines. Makes skin feel silky to the touch. Application: Fill brush or applicator pad with powder. Shake off excess. Dust across entire face and neck. Blend until even. Talc & Paraben Free Product Ingredients: Fair, True Beige, Medium Beige Ingredients: Boron Nitride, Mica, Zinc Stearate, Nylon-12, Isoeicosane, Polyisobutene, Hydrogenated Lecithin, Bismuth Oxychloride CI 77163, Titanium Dioxide CI 77891, Iron Oxide CI 77492, Iron Oxide CI 77491, Iron Oxide CI 77499 Pale Beige Ingredients: Mica, Boron Nitride, Magnesium Stearate, Nylon-12, Isoeicosane, Polyisobutene, Bismuth Oxychloride CI 77163, Titanium Dioxide CI 77891, Iron Oxide CI 77492, Ultramarines CI 77007, Iron Oxide CI 77491, Iron Oxide CI 77499 Deep Beige Ingredients: Mica, Boron Nitride, Bismuth Oxychloride CI 77163, Iron Oxides CI 77491, CI 77492, CI 77499, Zinc Stearate, Isoeicosane, Nylon-12, Polyisobutene, Titanium Dioxide CI 77891, Hydrogenated Lecithin

$20.00
Free Shipping*

August Minerals – Pressed Powder Foundation     Pale Beige <!br> - Other sizes/options. <!/span><!br>


A long wearing, silky smooth powder that can be used alone as a foundation, or whisked on lightly as a setting powder. This product is light in texture but provides beautiful coverage while giving a finished appearance that helps cover skin imperfections. Benefits: Adheres like a second skin and gives make-up "extended wear". Provides the perfect matte finish. Contains ingredients that help increase oil absorption. The low micron sized particles help reduce the sign of fine lines. Makes skin feel silky to the touch. Application: Fill brush or applicator pad with powder. Shake off excess. Dust across entire face and neck. Blend until even. Talc & Paraben Free Product Ingredients: Fair, True Beige, Medium Beige Ingredients: Boron Nitride, Mica, Zinc Stearate, Nylon-12, Isoeicosane, Polyisobutene, Hydrogenated Lecithin, Bismuth Oxychloride CI 77163, Titanium Dioxide CI 77891, Iron Oxide CI 77492, Iron Oxide CI 77491, Iron Oxide CI 77499 Pale Beige Ingredients: Mica, Boron Nitride, Magnesium Stearate, Nylon-12, Isoeicosane, Polyisobutene, Bismuth Oxychloride CI 77163, Titanium Dioxide CI 77891, Iron Oxide CI 77492, Ultramarines CI 77007, Iron Oxide CI 77491, Iron Oxide CI 77499 Deep Beige Ingredients: Mica, Boron Nitride, Bismuth Oxychloride CI 77163, Iron Oxides CI 77491, CI 77492, CI 77499, Zinc Stearate, Isoeicosane, Nylon-12, Polyisobutene, Titanium Dioxide CI 77891, Hydrogenated Lecithin

$20.00
Free Shipping*

August Minerals – Pressed Powder Foundation     True Beige <!br> - Other sizes/options. <!/span><!br>


A long wearing, silky smooth powder that can be used alone as a foundation, or whisked on lightly as a setting powder. This product is light in texture but provides beautiful coverage while giving a finished appearance that helps cover skin imperfections. Benefits: Adheres like a second skin and gives make-up "extended wear". Provides the perfect matte finish. Contains ingredients that help increase oil absorption. The low micron sized particles help reduce the sign of fine lines. Makes skin feel silky to the touch. Application: Fill brush or applicator pad with powder. Shake off excess. Dust across entire face and neck. Blend until even. Talc & Paraben Free Product Ingredients: Fair, True Beige, Medium Beige Ingredients: Boron Nitride, Mica, Zinc Stearate, Nylon-12, Isoeicosane, Polyisobutene, Hydrogenated Lecithin, Bismuth Oxychloride CI 77163, Titanium Dioxide CI 77891, Iron Oxide CI 77492, Iron Oxide CI 77491, Iron Oxide CI 77499 Pale Beige Ingredients: Mica, Boron Nitride, Magnesium Stearate, Nylon-12, Isoeicosane, Polyisobutene, Bismuth Oxychloride CI 77163, Titanium Dioxide CI 77891, Iron Oxide CI 77492, Ultramarines CI 77007, Iron Oxide CI 77491, Iron Oxide CI 77499 Deep Beige Ingredients: Mica, Boron Nitride, Bismuth Oxychloride CI 77163, Iron Oxides CI 77491, CI 77492, CI 77499, Zinc Stearate, Isoeicosane, Nylon-12, Polyisobutene, Titanium Dioxide CI 77891, Hydrogenated Lecithin

$20.00
Free Shipping*

August Minerals – Pressed Powder Foundation     Medium Beige <!br> - Other sizes/options. <!/span><!br>


A long wearing, silky smooth powder that can be used alone as a foundation, or whisked on lightly as a setting powder. This product is light in texture but provides beautiful coverage while giving a finished appearance that helps cover skin imperfections. Benefits: Adheres like a second skin and gives make-up "extended wear". Provides the perfect matte finish. Contains ingredients that help increase oil absorption. The low micron sized particles help reduce the sign of fine lines. Makes skin feel silky to the touch. Application: Fill brush or applicator pad with powder. Shake off excess. Dust across entire face and neck. Blend until even. Talc & Paraben Free Product Ingredients: Fair, True Beige, Medium Beige Ingredients: Boron Nitride, Mica, Zinc Stearate, Nylon-12, Isoeicosane, Polyisobutene, Hydrogenated Lecithin, Bismuth Oxychloride CI 77163, Titanium Dioxide CI 77891, Iron Oxide CI 77492, Iron Oxide CI 77491, Iron Oxide CI 77499 Pale Beige Ingredients: Mica, Boron Nitride, Magnesium Stearate, Nylon-12, Isoeicosane, Polyisobutene, Bismuth Oxychloride CI 77163, Titanium Dioxide CI 77891, Iron Oxide CI 77492, Ultramarines CI 77007, Iron Oxide CI 77491, Iron Oxide CI 77499 Deep Beige Ingredients: Mica, Boron Nitride, Bismuth Oxychloride CI 77163, Iron Oxides CI 77491, CI 77492, CI 77499, Zinc Stearate, Isoeicosane, Nylon-12, Polyisobutene, Titanium Dioxide CI 77891, Hydrogenated Lecithin

$20.00
Free Shipping*

August Minerals – Pressed Powder Foundation     Deep Beige <!br> - Other sizes/options. <!/span><!br>


A long wearing, silky smooth powder that can be used alone as a foundation, or whisked on lightly as a setting powder. This product is light in texture but provides beautiful coverage while giving a finished appearance that helps cover skin imperfections. Benefits: Adheres like a second skin and gives make-up "extended wear". Provides the perfect matte finish. Contains ingredients that help increase oil absorption. The low micron sized particles help reduce the sign of fine lines. Makes skin feel silky to the touch. Application: Fill brush or applicator pad with powder. Shake off excess. Dust across entire face and neck. Blend until even. Talc & Paraben Free Product Ingredients: Fair, True Beige, Medium Beige Ingredients: Boron Nitride, Mica, Zinc Stearate, Nylon-12, Isoeicosane, Polyisobutene, Hydrogenated Lecithin, Bismuth Oxychloride CI 77163, Titanium Dioxide CI 77891, Iron Oxide CI 77492, Iron Oxide CI 77491, Iron Oxide CI 77499 Pale Beige Ingredients: Mica, Boron Nitride, Magnesium Stearate, Nylon-12, Isoeicosane, Polyisobutene, Bismuth Oxychloride CI 77163, Titanium Dioxide CI 77891, Iron Oxide CI 77492, Ultramarines CI 77007, Iron Oxide CI 77491, Iron Oxide CI 77499 Deep Beige Ingredients: Mica, Boron Nitride, Bismuth Oxychloride CI 77163, Iron Oxides CI 77491, CI 77492, CI 77499, Zinc Stearate, Isoeicosane, Nylon-12, Polyisobutene, Titanium Dioxide CI 77891, Hydrogenated Lecithin

$20.00
Free Shipping*

DISCONTINUED Special Care Cover     3 colors <!br> <!/span><!br> This item is DISCONTINUED by the manufacturer.




How To Cover Skin Redness or Rosacea Need a concealer or foundation to cover rosacea or sensitive, red skin? When your skin is red and sensitive, you need Special Care in every way. Special Care Cover was developed to be the most gentle and effective foundation and concealer to cover redness of skin without being heavy. If you have a medical condition called Rosacea, or simply clusters of broken capillaries, acne scars, or sunburn, a concealer with yellow undertones will erase the redness, bringing your skin tone back to normal. A must have concealer in medi-spas, dermatologist, and plastic surgeons offices, it helps conceal and cover up red and sensitive skin due to dermabrasion, chemical peel, and laser surgery. A special blend of ingredients protects sensitive skin, including pomegranate, shea butter and aloe vera. These ingredients, plus two UV blockers, help retain moisture while counteracting "free radicals". If you breakout from spicy foods, extreme heat, allergic reactions, stress, or any stimulating type of ingredients, this foundation/concealer formula will help cover up any redness that appear on your face, neck, or hands. Use as an under eye concealer Have a purple or blue tint under your eyes? This beige concealer and yellow corrector with help neutralizer and cover your dark under eye circles. Shades in the 3 part compact can be mixed to cover a range of skin tones from light medium to medium dark Cancels red, bluish, or purple discoloration Provides opaque coverage without being heavy Used and recommended by skin care professionals nationwide Includes free blending sponge & cosmetic spatula Product Ingredients: Medical grade petrolatum, Beeswax/Cera Alba/Cire d'abeille, Butyrospermum Parkii (Shea Butter), Talc, Tocopheryl Acetate (Vitamin E), Aloe Barbadensis Leaf Extract, Punica Granatum (Pomegranate) Extract. May Contain: [+/- CI 77891 (Titanium Dioxide), CI 77489, CI 77491, CI 77492, CI 77499 (Iron Oxides), CI 77288 (Chromium Oxide Greens), CI 77019 (Mica)].

$24.00
Free Shipping*

EraseZit Pencil     Neutral <!br> - Other sizes/options. <!/span><!br>


Whether it is adult acne, teenage blemishes, monthly breakouts, skin irritations, scrapes, or nicks from razors, the EraseZit will Hide n Help. Apply at the first sign of acne or blemish! This double duty pencil conceals your blemishes and acne scars, while protecting it with Tea Tree Oil, a natural anti-bacterial-disinfectant, and Camphor, an effective astringent and drying agent. One color fits most skin types! Just like all The Everything Pencils, this unique Blemish Protecting oil blotting formula also contains Vitamin E, a powerful antioxidant that resists the reoccurrence of acne, and Aloe Vera, which reduces redness and swelling. Apply under foundation, or simply alone over your blemish. Its water resistant and keeps blemishes covered all day Excellent for the whole family Natural fragrance Allergy tested and doctor approved Covers up blemishes while fighting inflammation Each pencil includes a free sharpener

$17.00
Free Shipping*

EraseZit Pencil     Neutral Light <!br> - Other sizes/options. <!/span><!br>


Whether it is adult acne, teenage blemishes, monthly breakouts, skin irritations, scrapes, or nicks from razors, the EraseZit will Hide n Help. Apply at the first sign of acne or blemish! This double duty pencil conceals your blemishes and acne scars, while protecting it with Tea Tree Oil, a natural anti-bacterial-disinfectant, and Camphor, an effective astringent and drying agent. One color fits most skin types! Just like all The Everything Pencils, this unique Blemish Protecting oil blotting formula also contains Vitamin E, a powerful antioxidant that resists the reoccurrence of acne, and Aloe Vera, which reduces redness and swelling. Apply under foundation, or simply alone over your blemish. Its water resistant and keeps blemishes covered all day Excellent for the whole family Natural fragrance Allergy tested and doctor approved Covers up blemishes while fighting inflammation Each pencil includes a free sharpener

$17.00
Free Shipping*

Killer Cleanser     Jar <!br> <!/span><!br> This item is DISCONTINUED by the manufacturer.




Lifts off makeup and dirt while soothing and nourishing the skin. Helps soften mascara and removes waterproof makeup quickly and efficiently. Skin looks refreshed and smooth. This formula contains Aloe Vera, Jojoba Oil, and Vitamin E. Blends and melts into skin effortlessly and can also be used as an allover body creme to moisturize dry skin! Product Ingredients: Aloe Barbadensis Leaf, Petrolatum, Purified Water, Mineral Oil, Laureth-4, Simmondsia Chinensis (Jojoba) Seed Oil, Prunus Avium (Sweet Cherry) Seed Oil, Paraffin, Cetyl Alcohol, Diazolidinyl Urea, Methylparaben, Fragrance, Propyparaben, Tocopherol, Yellow 5.

$19.00
Free Shipping*

Killer Cover – Best Full Coverage Concealer     Neutral <!br> <!/span><!br>


Discover the best full coverage concealer and waterproof makeup To cover tattoos, scars, vitiligo, birthmarks, bruises, veins and more, you need an opaque concealer that will stay put until it's removed. Killer Cover™ the name says it all! Have you noticed that every part of your body is a different color? Custom blend problems away with this 5 color wheel concealer. -Age Spots on your hands? -Tattoo you don't want to see today? -Birthmarks, bruises or veins on your face or legs? -Port Wine Stains or Scars? *Beauty Bonus* – Can be used to contour and highlight! Also recommended by cosmetic surgeons and skin care professionals for post surgical cover up during healing.

$36.00
Free Shipping*

Killer Cover™ Full Coverage Concealer     Kit <!br> <!/span><!br>


Looking For A Full Coverage Concealer Kit? The Killer Cover Kit was designed as a singular solution to covering the most difficult discolorations such as birthmarks, age spots, bruises, port wine stains, scars, spider veins, broken capillaries, varicose veins, and vitiligo. Killer Cover™ Full Coverage Concealer Based on theatrical make up, this special formula succeeds where traditional concealers fail. Five-Color wheel allows You to Custom Blend & Match Your Skin Tone Water proof & lasts all day until you decide to remove it August Minerals™ Finishing Powder: Translucent All-natural mineral powder sets and finishes your camouflage makeup. Natural SPF Non-comedogenic Non-irritating Killer Cleanser™ The perfect makeup remover for all types of makeup especially camouflage makeup Contains Aloe Vera, Jojoba Oil & Vitamin E Leaves skin feeling soft and clean For All Skin Types

$62.00
Free Shipping*

Orange Masking Crème     Neutral <!br> <!/span><!br> This item is BACKORDERED from the manufacturer.
We will hold your order until supply is delivered



Choosing the best undereye concealer doesn t have to be a challenge. The best undereye concealer is going to have an undertone to help neutralize the darkness. Now with 3 individual concealer shades to choose from, Orange Masking Créme™ contains every undertone needed: peach, pink and salmon to conceal and correct. It beautifully covers dark under-eye circles and age spots and can work as foundation to brighten skin for a flawless finish. Enriched with Vitamin E & A, the conditioning, long-wearing formula includes a blending sponge. Use it over and under the area. It also covers blotches, bruises, and freckles, as well as pigmentation loss, which is a typical side effect of laser surgery and chemical peels. If you like using all 3 colors, check out our original jar of Orange Masking Crème where you can mix colors together to create your own neutralizing concealer!

$24.00
Free Shipping*
Manufacture BackOrdered
The Everything Pencil     Golden Beige <!br> - Other sizes/options. <!/span><!br>


Smoothes away red discoloration. Use for eyelids, blemishes, broken capillaries, veins, birthmarks, age spots, scars. For light olive complexions, yellow undertones, red blotchy skin.

$16.00
Free Shipping*

The Everything Pencil     Deep Beige <!br> - Other sizes/options. <!/span><!br>


This Cinnamon Pencil is used by many make-up artists as a lipliner-brow filler and light eye shadow. It can be used as a contour color for light complexion. For darker complexions to cover discolorations.

$17.00
Free Shipping*

The Everything Pencil     Soft Pink <!br> - Other sizes/options. <!/span><!br>


Softens fine lines, lip lines and frown lines. Use under foundation. Highlight under brow. Use inside lower eye lid for a wide eye look, especially inner corner of eye. Mix with other colors for lighter hues. Hide dark circles For all skin types.

$17.00
Free Shipping*

The Everything Pencil     Almond <!br> - Other sizes/options. <!/span><!br>


Softens fine lines, lip lines and frown lines. Use under foundation. Highlight under brow. Use inside lower eye lid for a wide eye look, especially inner corner of eye. Mix with other colors for lighter hues. Hide dark circles For all skin types.

$17.00
Free Shipping*

The Everything Pencil     Ultra Light <!br> - Other sizes/options. <!/span><!br>


Softens fine lines, lip lines and frown lines. Use under foundation. Highlight under brow. Use inside lower eye lid for a wide eye look, especially inner corner of eye. Mix with other colors for lighter hues. Hide dark circles For all skin types.

$17.00
Free Shipping*


The Everything Pencil     Pure Beige <!br> - Other sizes/options. <!/span><!br>


Hide under eye circles, blemishes, discolorations, scars. All over make up for an un-makeup look. Good for spider veins on legs and brown spots on hands. For light to medium complexions.

$17.00
Free Shipping*


The Everything Pencil     Cinnamon - Discontinued <!br> - Other sizes/options. <!/span><!br>


Softens fine lines, lip lines and frown lines. Use under foundation. Highlight under brow. Use inside lower eye lid for a wide eye look, especially inner corner of eye. Mix with other colors for lighter hues. Hide dark circles For all skin types.

$17.00
Free Shipping*