Judith August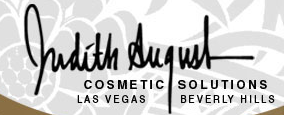 Judith August Cosmetic Solutions
Meet Judith August


Welcome to My World of Cosmetics.

My fascination with corrective cosmetics started many years ago when I modeled in Los Angeles and New York.

"They" said I would never be a print model because I had terrible "bags" under my eyes. In those days ('60s and '70s) no surgeon would operate because they said I was too young. The challenge was on. I studied lighting, art and makeup application, and I learned to conceal my flaw. I fooled them all and traveled on the modeling path for over 15 years.

In the following years, I became a speaker to women's organizations, corporations and conventions in the art of camouflage cosmetics. I also consulted with many plastic surgeons. This is where my first item, THE EVERYTHING PENCIL™ was born.

Today, I design products to cover and conceal just about anything, from simple flaws to serious discolorations. I am pleased to say that they are recommended by cosmetic surgeons and skin care professionals nationwide.

Little did I know that the challenge of my past would become the business of my future. I continually strive to develop fine cosmetic products that address all of our challenges.

The one thing I have learned over the years is that although... "Everybody's Got Something To Hide!"... I'm dedicated to giving, "Beautiful Coverage...Just for You!".

Below are some of my favorite photographs taken from my portfolio. I'm so happy to be able to share them with you!

Wishing You the Best of Everything,



Founder of Judith August Cosmetic Solutions

Just for Fun!

EraseZit Antiseptic Concealer     Pencil <!br> <!/span><!br>


Whether it is adult acne, teenage blemishes, monthly breakouts, skin irritations, scrapes, or nicks from razors, the EraseZit will Hide n Help.

Apply at the first sign of acne or blemish!

This double duty pencil conceals your blemishes and acne scars, while protecting it with Tea Tree Oil, a natural anti-bacterial-disinfectant, and Camphor, an effective astringent and drying agent. One color fits most skin types!

Just like all The Everything Pencils, this unique Blemish Protecting oil blotting formula also contains Vitamin E, a powerful antioxidant that resists the reoccurrence of acne, and Aloe Vera, which reduces redness and swelling.

Apply under foundation, or simply alone over your blemish.

Its water resistant and keeps blemishes covered all day
Excellent for the whole family
Natural fragrance
Allergy tested and doctor approved
Covers up blemishes while fighting inflammation
Each pencil includes a free sharpener

$15.00

Killer CoverTotal Blockout Make-up Covers Tattoos and more     Compact <!br> <!/span><!br>


Our revolutionary, new, waterproof smudge-proof perspiration and heat resistant formula is designed to cover the most difficult skin discolorations and problem areas that traditional concealers cannot touch.

Vitiligo
Age Spots
Veins
Port Wine Stains
Bruises
Birth Marks
Tattoos
&ldquoColor blending is often necessary because every part of the body is a different color&rdquo states its creator Judith August, who is often referred to as &ldquoThe Queen of Camouflage&rdquo.

You have five colors to choose from on the color wheel. Start with the shade closest to your skin tone and blend several shades together until you achieve your perfect match.

Killer Cover&trade will do its job of covering without being cakey. If you choose, your regular foundation can be applied over the concealer.

This highly pigmented formula is based from the Theatrical Industry and will stay put until you remove it.

$36.00

The Everything Pencil Cinnamon     Pencil <!br> <!/span><!br>


This Cinnamon Pencil is used by many make-up artists as a lipliner-brow filler and light eye shadow. It can be used as a contour color for light complexion.
For darker complexions to cover discolorations.

$15.00

The Everything Pencil Golden Beige     Pencil <!br> <!/span><!br>


Smoothes away red discoloration. Use for eyelids, blemishes, broken capillaries, veins, birthmarks, age spots, scars.
For light olive complexions, yellow undertones, red blotchy skin.

$15.00

The Everything Pencil Natural Pink     Pencil <!br> <!/span><!br>


Brightens and covers under eye darkness.
Use all around eye area - under brow- inside corner of eye - on cheekbone
All over make up for an un-makeup look
Evens out skin tone
For light olive/light medium and delicate complexions.

$15.00

The Everything Pencil Pure Beige     Pencil <!br> <!/span><!br>


Hide under eye circles, blemishes, discolorations, scars.
All over make up for an un-makeup look.
Good for spider veins on legs and brown spots on hands.
For light to medium complexions.

$15.00

The Everything Pencil Sunkissed Beige     Pencil <!br> <!/span><!br>


Covers very dark circles, brown spots, scars.
Use as a lipstick or shadow base
For dark olive sallow and sun-tanned complexions.

$15.00

The Everything Pencil Ultra Light     Pencil <!br> <!/span><!br>


Softens fine lines, lip lines and frown lines.
Use under foundation.
Highlight under brow.
Use inside lower eye lid for a wide eye look, especially inner corner of eye.
Mix with other colors for lighter hues.
Hide dark circles
For all skin types.

$15.00