Karin Herzog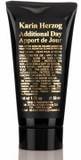 Additional Day Cream

This cream restores the hydro-lipid film of the epidermis, whilst providing additional comfort, and protects against external aggressions from television and computer screens, neon lights and ultra-violet rays etc. It is a vital complement prior to going out in the morning, in cold climates or for extra dry skin.
UPC: 7600901000500
 
Additional Day Cream
SIZES:

1.7oz.
$59.00
............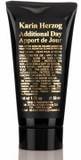 Discontinued!
Details


OXYGEN HYALU LIFT |Anti-Aging & Lifting     1 oz <!br> <!/span><!br>


Patented triple threat anti-aging treatment with plumping hyaluronic acid, skin purifying active oxygen and line fighting vitamin A (retinol). ▪ Reduces lines, wrinkles, sagging skin and dark spots. ▪ Hyaluronic acid plumps, firms and hydrates the skin. ▪ Boosts collagen production for long term anti-aging effects. ▪ Accelerates cell regeneration and natural recovery mechanisms. Skin Types All. Including sensitive. 35 years+.

$130.00

Vitamin H     1.69 fl. oz. / 50 ml <!br> <!/span><!br>


The ultimate mellow yellow dryness fighter! Light yet rich moisturizer packed with powerful vitamins and nourishing ingredients to revitalize all skin types. Can be used to reduce chronic inflammatory skin conditions (sensitive skin). ▪ Fights dryness and protects the skin from cold climates. ▪ Restores elasticity, firmness and softness to the complexion. ▪ Vitamin H helps to reinforce the skin's natural defenses and correct skin conditions. ▪ Vitamins B-complex provides essential energy to accelerate cellular renewal. ▪ Beta-Carotene helps to refine and firm the skin while binding free radicals to strengthen its natural resistance to ultra-violet rays. Skin Types All. Especially very dry, dehydrated skin and skin suffering from skin conditions.

$68.00

OXYGEN BODY 1% Full Body Moisturizer     5.18 fl. oz. <!br> <!/span><!br>


Dual-action anti-aging and skin renewing cream with 1% oxygen, retinol and mild fruit acids for the ultimate skin rejuvenation and surface exfoliation. The oxygen reaction creates a vacuum effect which pulls out excess debris and toxins from the pores to instantly unclog them. Learn more about the patented Oxygen Technology . ▪ Deeply hydrates and softens the skin. ▪ Fruit acids gently remove dead and dull skin cells. ▪ Active oxygen detoxifies the skin. ▪ Tones the skin, reduces breakouts and prevents blemishes. ▪ Leaves the skin smooth, healthy and radiant. ▪ Enhanced with natural fruit oils. Skin Types All. Including sensitive.

$59.00

OXYGEN BODY 3% Body Treatment     5.1 fl. oz. <!br> <!/span><!br>


Dr. Herzogs revolutionary, powerful spot treatment with 3% active oxygen with hydrating and firming properties. ▪ Helps treat stretch marks, breakouts and sun damage. ▪ Stimulates circulation, combats leg fatigue and diminishes water retention. ▪ Deeply hydrates, nourishes and tones the skin. ▪ Clinically proven to remove bacteria and germs from the skin. Skin Types All.

$70.00

Silhouette - Award Winning Anti-cellulite Cream     5.18 fl. oz. <!br> <!/span><!br>


The ultimate cellulite fighting 4% active oxygen body cream! Clinically proven to reduce cellulite and fatty deposits. ▪ Active oxygen breaks down irregular fat deposits. ▪ Remove fat deposits. ▪ Reduces water retention and leg circumference. ▪ Fights stretch marks, tones the skin. ▪ Increases nutrient absorption and deeply hydrates. Dynamic Duo: It is clinically proven that when combined with Tonus B12 and an appropriate diet and exercise routine, results can be observed within two weeks. Skin Types All. Especially local areas prone to cellulite and fat deposits.

$65.00

Tonus B12     5.18 oz <!br> <!/span><!br>


Unique firming and draining body cream formulated with energizing vitamin B12, organic green tea and sesame, avocado, jojoba and jasmine oil. ▪ Vitamin B12 & green tea boost body own metabolic function. ▪ Flushes toxins and broken up fat deposits. ▪ Nourishes the skin ▪ Firms and tones the skin. Dynamic Duo: Combine with Silhouette. Tonus B12 disperse cellulite broken down by Silhouette. Skin Types All. Especially local areas prone to cellulite and fat deposits.

$59.00

PROFESSIONAL CLEANSING – WATERMELON     1.7oz. <!br> <!/span><!br>


Our professional grade cleanser and makeup remover with the invigorating smell of watermelon. Successfully removes impurities while simultaneously conditioning the skin ▪ Gently removes even strong and waterproof makeup. ▪ Creates a vacuum effect to unclog pores and dissolve impurities. ▪ No stinging or irritation. ▪ Suitable for the eyes. Skin Types All. Full Ingredient List: Petrolatum, Paraffinum liquidum, Glycerin, Cetyl alcohol, Polysorbate 80, Salicylic acid, Parfum. Step 1: PREPARE Warm a dime-sized amount between your fingers. Without water, massage onto the dry face including the eye area in circular motions for 10 to 15 seconds. Remove with warm water and the Silk Towel or cotton pads. Use daily, morning and evening. Karin's Insider Beauty Tip: ▪ Leave on for about 5 minutes for an extra-deep pore cleansing. The vacuum effect created by the cleanser will soak out all impurities, toxins and excess debris from the pores. ▪ Ideal for heavy makeup users. Retail Sale Price: $45.00 Wholesale Price: $22.50 QTY Add to Wishlist SHARE [Pin It] Facebook Twitter

$49.00

Mild Scrub - Luxury Exfoliator     1.7 oz. / 50ml <!br> <!/span><!br>


Uncover healthy, glowing skin with this high performance exfoliator! Formulated with perfectly spherical premium quality ground white marble granules, Mild Scrub removes dead skin cells and provides a gentle exfoliation without abrasion or irritation. ▪ Superfine non-abrasive texture ▪ Does not scratch, dry or irritate the skin ▪ Contains no artificial particles ▪ Excellent preparation for a smooth application of makeup. Skin Types All. Including sensitive.

$54.00

Eye Cream Hydration & Anti-aging     .52oz / 15ml <!br> <!/span><!br>


Enriched with gentle and nourishing vitamins and infused with 0.5% active oxygen, this cream has been specifically designed for application to the eye contour area where the skin is thinner, more delicate and prone to the effects of premature aging. ▪ Fights fine lines, wrinkles and crow's feet. ▪ Diminishes dark circles and puffiness. ▪ Enhances nutrient absorption and deeply hydrates. ▪ Accelerates natural recovery mechanisms. Skin Types All. Including sensitive.

$59.00

Essential Mask Beauty-Boost Oxygen Mask     1.7oz. <!br> <!/span><!br>


The instant beauty booster! This deeply hydrating mask leaves the skin immediately feeling plumped, refreshed and radiant. Formulated with 2% active oxygen, vitamin A & E and a blend of essential oils, this patented formula provides an immediate lifting and toning effect while reducing visible signs of fatigue and age. ▪ Instant visible results. ▪ Minimizes breakouts and helps to fight blemishes. ▪ Restores hydration levels of the skin. ▪ Provides a lifting and toning effect. ▪ Reduces visible signs of aging and hyperpigmentation. ▪ Leaves the skin refreshed, plumped and radiant. Skin Types All. Including sensitive.

$65.00

Additional Day Cream     1.7oz. <!br> <!/span><!br> This item is DISCONTINUED by the manufacturer.




This cream restores the hydro-lipid film of the epidermis, whilst providing additional comfort, and protects against external aggressions from television and computer screens, neon lights and ultra-violet rays etc. It is a vital complement prior to going out in the morning, in cold climates or for extra dry skin.

$59.00
Free Shipping*

Additional Sweet.     1.7oz. <!br> <!/span><!br>


This night cream is specially formulated for skin which has not yet acquired the comfort it deserves. With an incomparable texture, the outstanding quality of this cream will leave the surface of your skin wonderfully soft in the evening and at night.

$59.00
Free Shipping*

Vita-A-Apricot - Anti-Aging Mature & Dry skin     1.73 fl. oz. <!br> <!/span><!br>


This refining anti-aging treatment features the original formula of stabilized oxygen and vitamin E & A (retinol) enhanced with apricot oil to deliver optimal skin functions to dry, dehydrated and depleted skin conditions. The patented combination of 2% of active oxygen and vitamin A works in tandem to increase the level of cellular oxygen, stimulate cellular re-generation, collagen production and nutrient absorption. Apricot oil provides deep hydration and nourishment, supporting the formation of a healthy cellular structure that enables mature and dry skin to repair itself. ▪ Rich in vitamins, essential nutrients and fatty acids ▪ Fights signs of aging ▪ Eliminates debris ▪ Accelerates natural recovery mechanisms ▪ Enhances nutrient absorption and hydrates Skin Types Mature, aging skin. Dry, dehydrated and depleted skin.

$80.00

Vita-A-Kombi With AHA - Anti-Aging Mature Skin     1.73 fl. oz. / 50ml <!br> <!/span><!br>


This dual-action anti-aging and skin renewing formula blends Dr. Herzog's patented active oxygen and vitamin A (retinol) formula with fruit acids (AHAs) to provide gentle yet powerful surface exfoliation and visible anti-aging results. The patented combination of 1% active oxygen and vitamin A works in tandem to increase the level of cellular oxygen, stimulate cellular re-generation, collagen production and nutrient absorption. AHA works to remove dead cells, reducing the appearance of hyperpigmentation, fine lines and wrinkles. ▪ Intensified anti-aging effects. ▪ Reduces signs of aging such as wrinkles and dark spots. ▪ Enhances nutrient absorption and hydrates. Skin Types Ideal for hyperpigmentation, mature skin or skin showing signs of aging. 50 years+.

$80.00

After Shave.     1.7 oz. <!br> <!/span><!br>


Patented after-shave treatment for men with 1% active oxygen, vitamin A and vitamin E fragranced with invigorating citrus oils. ▪ Calms, reduces irritations and evens skin tone. ▪ Boosts skin renewal to heal small scrapes and cuts. ▪ Detoxes the skin ▪ Antiseptic properties of active oxygen prevent razor bumps and ingrown hair. ▪ For skin feeling soft, clean and energized.

$65.01
Free Shipping*

AHA Cream.     1.7 oz. <!br> <!/span><!br>


Gentle Fruit Acid Peel A powerful, yet gentle, overnight exfoliation treatment formulated with fruit acids and nourishing vitamins. ▪ Removes dead skin cells ▪ Revitalizes dull skin ▪ Revives radiance and brightens skin ▪ Reduces the appearance of hyperpigmentation, fine lines and wrinkles Skin Types All. Including sensitive.

$64.00
Free Shipping*

Apricot Oil.     0.5oz. <!br> <!/span><!br>


Nourishing Dry Oil Super light, yet very nourishing apricot oil enriched with essential vitamins and fatty acids for a soft and supple texture. ▪ Fights signs of fatigue without clogging pores. ▪ Hydrates upper skin layers without leaving a greasy feel. ▪ Strengthens the skin's own regenerating properties. ▪ Nourishes the skin with essential vitamins and fatty acids. ▪ Restores softness and suppleness.

$37.00
Free Shipping*

BB Cream Light     1.16oz. <!br> <!/span><!br>


The ultimate multi-tasker formulated with four power ingredients! Evens skin tone, hides blemishes, fights wrinkles, hydrates and regenerates in one step. ▪ 100% Organic Natural Clay provides light and mattifying coverage. ▪ Marshmallow Absolute calms the skin, reduces redness, and boosts cell regeneration. ▪ Indian Gooseberry Extract fights free radicals & protects from environmental damage. ▪ Hyaluronic Acid plumps the skin and fights aging. ▪ Includes a natural sun filter. Additional SPF is recommended. ▪ NO nanotechnology; NO nanoparticles Skin Type All. Its light and hypoallergenic formula makes it suitable for all skin types including sensitive skin and problematic skin conditions. $44.90

$52.00
Free Shipping*

BB Cream Medium     1.16oz. <!br> <!/span><!br>


Benefits ▪ Provides light and mattifying coverage to even skin tone and hide blemishes ▪ Calms the skin and reduces redness ▪ Fights free radicals & protects from environmental damage ▪ Includes a natural sun filter. Additional SPF is recommended. How to use Use a small amount and evenly distribute it on your face. Use daily, in the morning or under makeup as a base. Ingredients Aqua (water), Alcohol denat., Glyceryl stearate, Monmorillonite, Cetyl alcohol,Stearyl alcohol, Tocopheryl acetate, Polysorbate 80, Olus (Vegetable) oil ,Isopropyl myristate, Candelilla Cera (Euphorbia Cerifera (Candelilla) Wax),Hydrogenated Vegetable oil, Salicylic acid, Iron oxides (CI 77492, CI 77491, CI77499),Mica, Parfum (fragrance), Alcohol, Tin oxide, Titanium dioxide (CI 77891),Formic acid, Benzyl Benzoate, Citral, Limonene. ▪ 100% Organic Natural Clay provides light and mattifying coverage. ▪ Marshmallow Absolute calms the skin, reduces redness, and boosts cell regeneration. ▪ Indian Gooseberry Extract fights free radicals & protects from environmental damage. ▪ Hyaluronic Acid plumps the skin and fights aging. ▪ Includes a natural sun filter. Additional SPF is recommended. ▪ NO nanotechnology; NO nanoparticles Skin Type All. Its light and hypoallergenic formula makes it suitable for all skin types including sensitive skin and problematic skin conditions. $44.90

$52.00
Free Shipping*

Camomille. Sensitive Skin Calming     1.7 oz. <!br> <!/span><!br>


Mild cream combining the detoxifying and hydrating properties of 1% active oxygen with the calming effects of chamomile. ▪ Chamomile calms inflammation and soothes irritations. ▪ Controls oil production and reduces pore clogging. ▪ Kills bacteria and boosts healing. ▪ Eliminates debris. ▪ Softens skin texture for glowing, healthy and vital skin. Skin Types All. Ideal for oxygen treatment beginners with sensitive skin.

$72.00
Free Shipping*

CHOCO2     1.73 <!br> <!/span><!br>


Dr. Herzogs revolutionary, patented anti-aging cream with 2% oxygen, Vitamin A and Swiss chocolate pampering your senses with a luxurious scent. Oxygen facilitates the acidification of vitamin A into retinol yielding all the anti-aging benefits of retinoic acid without the typical side effects of irritation, dehydration or photosensitivity. Learn more about the patented Oxygen Technology . ▪ Treats pronounced signs of aging. ▪ Detoxifies the skin and reduces hormonal breakouts. ▪ Accelerates cell regeneration and natural recovery mechanisms. ▪ Deeply hydrates, boosts moisture, and evens skin tone. ▪ Chocolate has an exceptionally high concentration of antioxidants. Skin Types All. Including sensitive.

$70.00
Free Shipping*

CHOCOLATE! Antioxidant Moisturizer     1.73 oz. <!br> <!/span><!br>


Luxurious moisturizer to soften the skin while pampering the senses with the sweet scent of Swiss chocolate. ▪ Enhances elasticity of the skin. ▪ Protects the skin from environmental influences. ▪ Locks nutrients, oxygen and moisture into the skin. ▪ Enhances the effects of the oxygen treatment. ▪ Cacao beans contain a high concentration of antioxidants and essential vitamins. Skin Types All. Including sensitive.

$55.00

CHOCOLATE! LIP BALM     .03 oz <!br> <!/span><!br>


Luxurious lip balm that pampers your senses with the sweet scent and taste of real Swiss chocolate. ▪ Moisturizes the sensitive skin around the lips. ▪ Softens and smooths the texture of the lips. ▪ Helps to treat dry and cracked lips. ▪ Enhances the lips. ▪ Cacao beans contain a high concentration of antioxidants and essential vitamins. Skin Types All. Including sensitive. Oxygen facilitates the acidification of vitamin A into retinol yielding all the anti-aging benefits of retinoic acid without the typical side effects of irritation, dehydration or photosensitivity. Learn more about the patented Oxygen Technology . ▪ Treats pronounced signs of aging. ▪ Detoxifies the skin and reduces hormonal breakouts. ▪ Accelerates cell regeneration and natural recovery mechanisms. ▪ Deeply hydrates, boosts moisture, and evens skin tone. ▪ Chocolate has an exceptionally high concentration of antioxidants. Skin Types All. Including sensitive.

$29.00

Day Protection Day Moisturizer SPF 10     1.73 oz. <!br> <!/span><!br>


Antioxidant-rich facial day protection cream formulated with added SPF 10 and Vitamin E and A (retinol). A great-go-to daily moisturizer with added SPF 10 to protect against varying climatic changes, air conditioning or central heating. ▪ Locks nutrients and moisture into the skin without oiliness. ▪ Light texture for a matt finish. ▪ Enhances effects of the oxygen treatment. ▪ Leaves the skin soft, supple and hydrated ▪ SPF 10 provides light protection against climatic conditions. Skin Types All. Including sensitive.

$59.00

ER ERASE & RAISE SERUM Anti-Aging & Plumping Hyaluronic Serum     0.5 oz. <!br> <!/span><!br>


A potent and lifting anti-aging serum formulated with vitamin E & hyaluronic acid, which helps to increase the water content in the skin, plumps lines and wrinkles and boosts radiance. Provides an effective alternative to injectable fillers. The perfect last minute beauty boost before a big event! ▪ Instant tightening effect on sagging skin. ▪ Boosts collagen production. ▪ Plumps lines and wrinkles. ▪ Evens skin tone and boosts radiance. ▪ Improves skin elasticity and firmness. ▪ Antioxydant. Skin Types All. Including sensitive.

$98.00

FINEST CHOCOLATE CLEANSING Cleanser & Makeup Remover     1.7oz. <!br> <!/span><!br>


Professional grade dual action cleanser and makeup remover to effectively remove all traces of makeup and impurities. ▪ Based on the purifying gel texture of Professional Cleansing. ▪ Gently removes even strong and waterproof makeup. ▪ Creates a vacuum effect to unclog pores and dissolve impurities. ▪ No stinging or irritation. ▪ Suitable for the eye area. ▪ Swiss chocolate deeply hydrates skin resulting in a soft and radiant complexion. Skin Types All.

$49.00
Free Shipping*

FOOT CREAM Hydrating Oxygen Cream     1.73 oz. <!br> <!/span><!br>


An indulgent treat for feet: Soothe, nourish and moisturize for incredibly fresh and soft feet. ▪ Formulated with 2% active oxygen. ▪ Hydrates and nourishes. ▪ Helps to soften and condition feet. ▪ Naturally prevents athlete s foot and odors thanks to the naturally antiseptic properties of active oxygen. ▪ Keeps feet fresh and invigorated ▪ Fresh sent. Skin Types All. Including sensitive.

$46.00

Hand & Nail Cream Nourishing Oxygen Hand & Nail Cream     1.73 oz. / 50ml <!br> <!/span><!br>


Potent anti-aging treatment for the hands combining Dr. Herzog's 1% patented active oxygen formula with multiple vitamins, lipids and essential fatty acids. ▪ Diminishes age spots and other pronounced signs of aging. ▪ Strengthens the skin tissue. ▪ Protects skin against damaging environmental factors. ▪ Hydrates, regenerates and nourishes the skin. ▪ Accelerates natural recovery mechanisms. ▪ Leaves hands soft and smooth. Skin Types All. Including sensitive.

$37.00

MILD SCRUB | Luxury Exfoliator     1.7oz. <!br> <!/span><!br>


Uncover healthy, glowing skin with this high performance exfoliator! Formulated with perfectly spherical premium quality ground white marble granules, Mild Scrub removes dead skin cells and provides a gentle exfoliation without abrasion or irritation. ▪ Superfine non-abrasive texture ▪ Does not scratch, dry or irritate the skin ▪ Contains no artificial particles ▪ Excellent preparation for a smooth application of makeup. . ▪ Gently removes even strong and waterproof makeup. ▪ Creates a vacuum effect to unclog pores and dissolve impurities. ▪ No stinging or irritation. ▪ Suitable for the eyes.

$54.00
Free Shipping*

Original Swiss Cream Medical Cream     3.4oz. <!br> <!/span><!br>


Regulated Class 1 Medical Cream by Swiss Medic that provides active oxygen (2%) to the deeper layers of the skin, promoting healing. Skin Type: All. Benefits ▪ Kills bacteria ▪ Prevents infections ▪ Reduces scarring ▪ Assists in pre & post surgery healing process ▪ Accelerates cell regeneration in case of burns ▪ Prevents & heals bedsores How to use Apply a thin layer onto damaged skin, open wounds, scars or burns using a brush. Leave to absorb naturally for at least 3 to 5 minutes.

$64.00
Free Shipping*

OXYGEN FACE Acne Youth & Adult Problematic Skin     1.7oz / 50ml <!br> <!/span><!br>


With 2% active oxygen, this treatment is designed to treat and regulate acne-prone skin. This light cream helps to limit the formation of excess sebum, clogged pores and blemishes. Ideal for adolescents or adults oily skin prone to breakouts and blackheads. Can be used to reduce chronic inflammatory skin conditions (non-sensitive skin only). ▪ Oil-free treatment ▪ Optimizes skin functions. ▪ Clears surface acne and blemishes. ▪ Neutralizes subcutaneous bacteria. ▪ Eliminates accumulated toxins. ▪ Limits the production of excess sebum and clogged pores. ▪ Enhances nutrient absorption and hydrates. Skin Types All. Especially oily, acneic or combination skin.

$65.00

OXYGEN SUN After Sun & Tan Maximizer     5.1 oz. / 150ml <!br> <!/span><!br>


The ultimate beach companion! Formulated with 1% active oxygen this face and body cream deeply hydrates the skin and maximize tanning. ▪ Optimally hydrates the skin before sun exposure. ▪ Accelerates tanning and the production of melanin for a healthy, glowing tan. ▪ Maintains elasticity of the skin. ▪ Enhances the benefits of sun protection creams. ▪ Rehydrates and regenerates the skin after sun exposure. ▪ Prepares for another day in the sun. Skin Types All. Including sensitive. Learn more about Dr. Herzog s patented, revolutionary Oxygen Technology .

$59.00

PROFESSIONAL CLEANSING - Cleanser & Makeup Remover     1.7oz. / 50ml <!br> - Other sizes/options. <!/span><!br>


Professional grade, dual action cleanser and highly effective makeup remover that successfully removes impurities while simultaneously conditioning the skin. . ▪ Gently removes even strong and waterproof makeup. ▪ Creates a vacuum effect to unclog pores and dissolve impurities. ▪ No stinging or irritation. ▪ Suitable for the eyes. Skin Types All.

$49.00

PROFESSIONAL CLEANSING - Cleanser & Makeup Remover     1.7oz. <!br> - Other sizes/options. <!/span><!br>


Professional grade, dual action cleanser and highly effective makeup remover that successfully removes impurities while simultaneously conditioning the skin. . ▪ Gently removes even strong and waterproof makeup. ▪ Creates a vacuum effect to unclog pores and dissolve impurities. ▪ No stinging or irritation. ▪ Suitable for the eyes.

$49.00
Free Shipping*

Rose     1.7 oz. <!br> <!/span><!br>


Delicate cream combining detoxifying and hydrating properties of 1% active oxygen with soothing and brightening effects of Rose Centifolia. Can be used to reduce chronic inflammatory skin conditions (sensitive skin). ▪ Calms the skin, reduces redness, and evens the skin tone. ▪ Eliminates debris and accumulated toxins ▪ Enhances nutrient absorption and deeply hydrates. ▪ Helps to balance the skin's pH resulting in a fresh and luminous look. Skin Types All. Especially sensitive skin prone to dullness or redness.

$72.00

Shake and Shine Shimmering body oil     0.5 oz. / 15ml <!br> <!/span><!br>


Shine like a star! Enriched with Apricot, Pineapple, Lemon and Mandarin extracts, this body oil nourishes, protects and moisturizes the skin. The fine gold powder added will leave a sparkling touch on your body and a delicate fruity fragrance.

$39.00

Shower Body Scrub - Luxury Body Exfoliator     5.1 oz. <!br> <!/span><!br>


Uncover healthy, glowing skin with this high performance exfoliator formulated with premium white marble powder, vitamin E, jojoba, almond and apricot oil. ▪ Removes dead and dull skin cells without irritation or abrasion. ▪ Refines skin texture and gently polishes the skin. ▪ Prepares for a smooth application of self-tanners or bronzers. Skin Types All. Including sensitive.

$59.00

TONE & TAN - Firming Self-Tanner     5.18 oz / 150 ml <!br> <!/span><!br>


2-in-1 body toner and self-tanner – lovely scent and no streakiness! Based on the formula of Tonus B12, this product firms the skin and works together with Silhouette to diminish existing cellulite while providing a natural looking tan. ▪ Gradually provides an even and glowing tan - no streakiness, no orange! ▪ High concentrations of vitamin B12 & green tea boost body's own metabolic function. ▪ Flushes toxins and broken up fats out of the body. ▪ Increases nutrient absorption. ▪ Reduces water retention in heavy legs. ▪ Speeds up skin regeneration. ▪ Nourishes the skin with essential oils. Skin Types All. Including sensitive.

$59.00

TONIC LOTION - Pore Closing & Revitalizing Toner     7 oz / 200 ml <!br> <!/span><!br>


Wake up your skin with our fresh invigorating toner! Removes residue left behind by hard water and any remaining traces of makeup. ▪ Tightens the skin. ▪ Minimizes pores without dryness. ▪ Mild antiseptic properties. ▪ Formulated with unscented, nourishing floral waters. Skin Types All. Including sensitive. ▪ Tightens the skin. ▪ Minimizes pores without dryness. ▪ Mild antiseptic properties. ▪ Formulated with unscented, nourishing floral waters. Skin Types All. Including sensitive. . ▪ Gently removes even strong and waterproof makeup. ▪ Creates a vacuum effect to unclog pores and dissolve impurities. ▪ No stinging or irritation. ▪ Suitable for the eyes.

$37.00
Free Shipping*

Tonus B12     6.7 fl. oz. <!br> <!/span><!br>

$59.00
Free Shipping*

Vita-A-Kombi 1 - Anti-aging     1.7 oz / 50 ml <!br> <!/span><!br>


The unique formula of this anti-aging face cream combines vitamin E & A (retinol) with 1% active oxygen, helping to normalize and detoxify the skin while diminishing the appearance of fine lines and wrinkles. This is the ideal anti-wrinkle cream to use from the age of 25. The patented combination of 1% of active oxygen and vitamin A works in tandem to increase the level of cellular oxygen, stimulate cellular re-generation, collagen production and nutrient absorption. • Combats first signs of aging • Boosts the natural production of collagen • Accelerates cell regeneration • Moisturizes • Minimizes pores • Evens the skin tone • Illuminates the complexion Skin Types All. Including sensitive. 25 Yrs.+

$80.00

Vita-A-Kombi 2 - Anti-Aging Problematic Skin     1.7oz / 50ml <!br> <!/span><!br>


With 2% active oxygen and vitamin E & A (Retinol), this cream is for users of Vita-A-kombi 1 who would like a transition to a second phase to treat pronounced signs of aging and acne-prone skin. The patented combination of 2% of active oxygen and vitamin A works in tandem to increase the level of cellular oxygen, stimulate cellular re-generation collagen production and nutrient absorption. • Combats pronounced signs of aging • Boosts the natural production of collagen • Accelerates cell regeneration • Moisturizes • Minimizes pores • Evens the skin tone • Illuminates the complexion Skin Types Mature, dry, very thick, oily or acne prone skin.

$85.00

VITA-A-KOMBI OIL - Anti-Aging Nourishing Serum     .51oz/15ml <!br> <!/span><!br>


Lightweight vitamin A (retinol) concentrate enriched with vitamin E and a blend of plant and seed oils to nourish and plump dry skin without oiliness. Extra high retinol concentration boosts collagen production to eliminate signs of aging. ▪ Heals dry and dehydrated skin without greasiness. ▪ Maximizes the effects of oxygen treatments. ▪ Nourishes and revitalizes fatigued skin to restore a more radiant complexion. ▪ Protects skin against damaging environmental factors and harsh weather conditions. Skin Types Mature and/or dry and dehydrated skin. Skin needing additional replenishment during the first weeks of oxygen treatment.

$59.00

Vita-A-Kombi 3 - Intensive Spot Treatment     0.5oz / 15 ml <!br> <!/span><!br>


With 3% active oxygen and vitamin E & A (Retinol), this cream is a powerful spot treatment for blemishes. With detoxifying and antiseptic properties, the cream works to hydrate and destroy bacteria to treat localized breakouts and stimulate the skin's ability to heal and repair itself. ▪ Locally treats blemishes, spots and breakouts ▪ Fights hyperpigmentation ▪ Fights pronounced signs of aging ▪ Detoxifies and hydrates the skin ▪ Helps cell regeneration and natural recovery mechanisms Skin Types All. For spot treatment of acne, blemishes, and hyperpigmentation.

$43.00

Tonic Lotion     7.05 fl. oz. <!br> <!/span><!br>


This ultra-refreshing lotion is composed of unscented floral waters, to avoid any risk of allergies. Produced with the purest waters, it also contains 3% alcohol, which is essential to preserve this significant quantity of water without adding chemical preservative agents. This percentage of alcohol does not dry the skin and has 2 useful effects : It dissolves calcium, which can become deposited in the pores if you have very hard water at home, and it soothes irritation, thanks to its antiseptic action. Soak a cotton pad with Tonic Lotion and wipe it all over your face. (7.14 oz)

$39.00

UPC: 7600901000500