Joico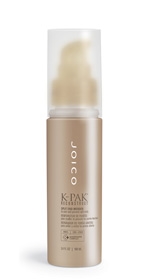 K-Pak Reconstruct Split End Mender

Designed for damaged, chemically treated hair, to both mend existing split ends and prevent new ones from forming. Features an exclusive dual-polymer technology that deeply penetrates porous hair ends to create an ultra durable bond. Also contains a combination of K-PAK technologies Quadramine Complex, Keratin Silicone Complex and Hair Protection System - ensures maximum protection and reconstruction from the cortex, locks in moisture, seals the cuticle, and delivers smoothness to the hair.
UPC: 074469446280
 
K-Pak Reconstruct Split End Mender
SIZES:

3.4 fl. oz.
$15.00
............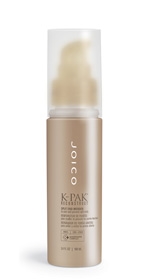 Discontinued!
Details


K-Pak Protect and Shine Serum     1.7 fl. oz. <!br> <!/span><!br>


K-Pak Protect and Shine Serum - Triamine Complex helps reconstruct throughout the day. Protects hair from free radical damage, UV light and environmental pollutants. Helps prevent split ends and frizziness. Alcohol Free. Adds incredible shine.

$21.00

Color Endure Conditioner- For Long Lasting Color     10.1 oz. <!br> <!/span><!br>


This color-preserving conditioner protects the vibrancy of color-treated hair with Joico's exclusive Multi-Spectrum Defense Complex.
Hair color lasts longer; hair is softer, more manageable and stronger.

$14.35

Daily Care Balancing Conditioner-Normal Hair     10.1 fl. oz. <!br> - Other sizes/options. <!/span><!br>


A daily conditioner for all hair types. Detangles hair without making it flat. Eliminates static electricity and adds luster.

$14.00

Daily Care Balancing Conditioner-Normal Hair     33.8 oz <!br> - Other sizes/options. <!/span><!br>


Designed for normal hair
This weightless daily conditioner maintains optimum moisture balance, instantly detangles and eliminates static without buildup.
Hair is radiant with increased body and manageability.


$22.00

Daily Care Conditioner - for Normal to Dry Hair     10.1 fl. oz. <!br> - Other sizes/options. <!/span><!br>


Fortified with starflower oil, this daily conditioner helps to prevent moisture loss on dehydrated hair while restoring resiliency and shine. Leaves hair strong, healthy and beautifully resilient. Protects against cuticle damage.

$16.00

Daily Care Conditioner - for Normal to Dry Hair     33.8 oz. <!br> - Other sizes/options. <!/span><!br>


Fortified with starflower oil, this daily conditioner helps to prevent moisture loss on dehydrated hair while restoring resiliency and shine. Leaves hair strong, healthy and beautifully resilient. Protects against cuticle damage.

$27.00

Daily Care Moisturizer     10.1 fl. oz. <!br> - Other sizes/options. <!/span><!br> This item is BACKORDERED from the manufacturer.
We will hold your order until supply is delivered



For dry hair. Fortified with panthenol, this moisturizing treatment conditions dry, damaged hair, while a pH of 3.5 helps to restore the cuticle to a more natural state by restoring body and elasticity.
Hair is re-hydrated and demonstrates more luster, manageability and softness.

$19.00
Manufacture BackOrdered
Daily Care Moisturizer     5.1 oz. <!br> - Other sizes/options. <!/span><!br>


Designed for dry hair.
Fortified with panthenol, this moisturizing treatment conditions dry, damaged hair, while a pH of 3.5 helps to restore the cuticle to a more natural state by restoring body and elasticity.
Hair is re-hydrated and demonstrates more luster, manageability and softness.

$19.00

Daily Care Moisturizer     35.2 oz. <!br> - Other sizes/options. <!/span><!br> This item is DISCONTINUED by the manufacturer.




Intensive moisture treatment. Creates a protective barrier retaining essential moisture needed for dry or damaged hair.

$37.00

K-PAK Color Therapy Conditioner     10.1 oz <!br> - Other sizes/options. <!/span><!br>


Hair is nourished and hydrated, leaving it instantly smoother, shinier and more vibrant. With continued use, hair's strength, elasticity and resiliency are restored. Hair color is protected from fading that can be caused by environmental stresses and structural damage.

$20.00

K-PAK Color Therapy Conditioner     33.8 oz <!br> - Other sizes/options. <!/span><!br>


Hair is nourished and hydrated, leaving it instantly smoother, shinier and more vibrant. With continued use, hair's strength, elasticity and resiliency are restored. Hair color is protected from fading that can be caused by environmental stresses and structural damage.

$31.00

K-Pak Deep Penetrating Reconstructor     5.1 oz. <!br> - Other sizes/options. <!/span><!br>


A deep penetrating reconstructive treatment that rebuilds and improves the quality and structure of the hair. Strengthens hair inside and out.

$23.00

K-Pak Deep Penetrating Reconstructor     33.8 fl oz. <!br> - Other sizes/options. <!/span><!br>


A deep penetrating reconstructive treatment that rebuilds and improves the quality and structure of the hair. Strengthens the hair inside and out.

$40.00

K-PAK Intense Hydrator     10.1 fl oz. <!br> - Other sizes/options. <!/span><!br>


Treatment for dry, damaged hair
Replenishes moisture and lipids to overly dry, damaged hair, rendering it manageable, soft, shiny and hydrated.
Seals the cuticle and improves elasticity.


$22.00

K-PAK Intense Hydrator     33.8 fl oz. <!br> - Other sizes/options. <!/span><!br>


Treatment for dry, damaged hair
Replenishes moisture and lipids to overly dry, damaged hair, rendering it manageable, soft, shiny and hydrated.
Seals the cuticle and improves elasticity.

$40.00

K-Pak Reconstruct Daily Conditioner     10.1 oz. <!br> - Other sizes/options. <!/span><!br>


K-Pak, Reconstruct Daily Conditioner - This moisture rich daily conditioner reconstructs and strengthens damaged hair. Detangles and eliminates static while leaving hair smooth, silky and shiny.

$16.00

K-Pak Reconstruct Daily Conditioner     33.8 oz <!br> - Other sizes/options. <!/span><!br>


K-Pak, Reconstruct Daily Conditioner - This moisture rich daily conditioner reconstructs and strengthens damaged hair. Detangles and eliminates static while leaving hair smooth, silky and shiny.

$32.00

K-Pak Reconstruct Leave-in     10.1 oz <!br> <!/span><!br>


This Weightless liquid reconstruct or for fine, damaged hair rebuilds and improves the structure of hair This balance of 19 essential amino acids adheres quickly and effectively to ensure maximum protection and reconstruct from the cuticle to the cortex Manufactured in United States

$27.00

K-PAK Reconstructor     8.5 fl. oz. <!br> <!/span><!br>


A deep penetrating reconstructive treatment that rebuilds and improves the quality and structure of the hair. Strengthens hair inside and out.

$27.00

K-PAK RevitaLuxe Restorative Treatment     5.1 oz <!br> <!/span><!br>


The RevitaLuxe Restorative Treatment features Joico's new bio-advanced, patent-pending, Keratin Peptide Complex which actually mimics the natural hair repair mechanism that exists deep within the cortex of each hair strand.

This complex features bio-mimetic peptides that actively target and rebuild weak, damaged and broken areas on the hair, instantly strengthening and rejuvenating. Tests on actual salon clients show that after just one use, hair contains four times as many healthy keratin peptides as it did before application; and after three days of use, it contains more than seven times as many peptides. This means that in addition to repairing existing damage, RevitaLuxe continues repairing and it stands guard against future damage from chemical, environmental and thermal stressors by creating a "molecular bandage" on the hair surface. It also helps prevent premature color fading and maintains color luster.

$24.00

Moisture Recovery Conditioner     10.1 oz <!br> - Other sizes/options. <!/span><!br>


Designed for: dry hair Benefits: This technologically advanced marine-based conditioner contains Hydramine Sea Complex, Quadramine Complex and jojoba oil to provide the ultimate in moisture replenishment for dry hair. Dry hair is revitalized and emerges hydrated, smooth and manageable with increased elasticity.

$18.00

Moisture Recovery Conditioner     33.8 oz <!br> - Other sizes/options. <!/span><!br>


Designed for: dry hair Benefits: This technologically advanced marine-based conditioner contains Hydramine Sea Complex, Quadramine Complex and jojoba oil to provide the ultimate in moisture replenishment for dry hair. Dry hair is revitalized and emerges hydrated, smooth and manageable with increased elasticity.

$35.00

Silk Result Smothering Conditioner     10.1 fl oz. <!br> <!/span><!br> This item is DISCONTINUED by the manufacturer.




Silk Result Smothering Conditioner for Fine Hair.

$40.00

Joi Lotion     10.1 oz. <!br> <!/span><!br>


Joi Lotion - a medium hold lotion, touchable body, creates shine.

$16.00

JoiGel Firm     8.5 fl. oz. <!br> - Other sizes/options. <!/span><!br>


Provides excellent support, control and shine for styling without flaking.
UV protectants condition and protect against daily environmental stress.
Maximum styling control, body and shine to support hard-to-hold hair.

$14.00

JoiGel Firm     33.8 oz <!br> - Other sizes/options. <!/span><!br> This item is BACKORDERED from the manufacturer.
We will hold your order until supply is delivered



Provides excellent support, control and shine for styling without flaking.
UV protectants condition and protect against daily environmental stress.
Maximum styling control, body and shine to support hard-to-hold hair.


$30.00
Manufacture BackOrdered
JoiGel Medium     8.5 oz. <!br> <!/span><!br>


This alcohol-free, medium-hold gel adds pliable control, volume and shine during the styling process. Does not flake and dries quickly.
UV protectants condition and protect against daily environmental stress.
Hair has touchable control with a vibrant, lustrous finish.


$16.00

K-PAK Deep Penetrating Reconstructor     8.5 fl. oz. <!br> <!/span><!br>


A deep penetrating reconstructive treatment that rebuilds and improves the quality and structure of the hair. Strengthens hair inside and out.

$33.00

K-PAK Leave In Protectant     8.5 fl oz. <!br> - Other sizes/options. <!/span><!br> This item is BACKORDERED from the manufacturer.
We will hold your order until supply is delivered



K-PAK Leave In Protectant

$21.00
Manufacture BackOrdered
K-PAK Split End Mendor     3.4 <!br> <!/span><!br> This item is BACKORDERED from the manufacturer.
We will hold your order until supply is delivered


$20.00
Manufacture BackOrdered
JoiFix Firm     10.1 oz. <!br> <!/span><!br>


This non-aerosol, firm-holding finishing spray provides a humidity-resistant hold in any climate.
UV protectants and panthenol provide shine and a barrier against the environment.
Maximum hold for all hair types and styles.


$17.00

JoiMist Firm     10.5oz. <!br> - Other sizes/options. <!/span><!br>


JoiMist Firm - Medium hold shaping and finishing spray. Versatile fast drying spray enables easy styling. Leaves hair touchable.

$17.75

JoiMist Firm     9 fl oz. <!br> - Other sizes/options. <!/span><!br>


This firm-hold aerosol spray locks in finished style for all-day hold and support.
UV protectants protect against daily environmental stress.
An excellent humidity-resistant firm-hold spray that maintains hairs shape throughout the day.


$23.50

JoiMist Medium     9.1oz. <!br> <!/span><!br>


JoiMist Medium hold shaping and finishing spray. Versatile fast drying spray enables easy styling. Leaves hair touchable.

$17.75

JoiShape Aerosol     10.5 oz <!br> <!/span><!br>


A medium-hold, flexible and humidity resistant aerosol hairspray that adds incredible shine and won't flake.
UV protectants condition and protect against daily environmental stress.
This spray can also be used in conjunction with thermal styling tools, such as curling irons, flat irons or hot rollers, for additional volume and memory.

Humidity-resistant formula provides beautiful, shiny flexible hold with outstanding shine.


$16.00

K-Pak Protective Hair Spray     10 oz. <!br> <!/span><!br>


K-Pak Protective Hair Spray - Working spray that moistuizes and protects.

$17.00

Defy Damage Deluxe Pro Kit     Kit <!br> <!/span><!br>


Defy Damage Deluxe Pro Kit - Protect all hair types from the ravaging effects of daily heat styling, UV exposure, and environmental pollution that lead to dry, dull, lackluster locks with Joicos NEW Defy Damage haircare system. From salon to home and beyond, this damage-defying breakthrough helps protect and strengthen hair bonds for a healthy hair transformation you can instantly see and feel.

$89.99

Joi Whip     10.2 oz. <!br> <!/span><!br>


Designed for firm-hold design
This alcohol-free, firm-hold designing foam enriched with Kukui nut oil adds incredible shine, body and volume.
UV protectants condition and protect against daily environmental stress.


$17.50

K-Pak Thermal Designing Foam     10.2 fl oz. <!br> <!/span><!br>


K-Pak Thermal Designing Foam - A medium hold mousse that adds body. Heat activated.

$18.00

Daily Care Balancing Shampoo     33.8 fl oz. <!br> <!/span><!br> This item is DISCONTINUED by the manufacturer.




Daily Care Balancing Shampoo

$32.00

Daily Care Conditioning Shampoo     33.8 oz. <!br> <!/span><!br> This item is DISCONTINUED by the manufacturer.




Designed for normal/dry hair

This highly concentrated shampoo rich in EFA's replenishes moisture and elasticity to dehydrated or chemically treated hair.

Hair is hydrated, renewed and healthy.


$26.00

Daily Care Treatment / Conditioning Shampoo try Reset by Biolage     10.1 oz. <!br> <!/span><!br> This item is DISCONTINUED by the manufacturer.




Designed for normal/dry hair

This highly concentrated shampoo rich in EFA s replenishes moisture and elasticity to dehydrated or chemically treated hair.

Hair is hydrated, renewed and healthy.


$18.00

Daily Care Treatment Shampoo (old name biojoba )     10.1oz. <!br> <!/span><!br> This item is BACKORDERED from the manufacturer.
We will hold your order until supply is delivered



Joico Daily Care Treatment Shampoo Formerly know as Joico Biojoba Treatment Shampoo this silky daily shampoo is designed for your healthy scalp. It will protect your hair and scalp from daily environment stress leaving it free of dry skin and oily build up.This Joico Daily Care Treatment Shampoo contains a unique blend of Biotin Jojaba Oil and Inositol. This combination helps to balance the oily build up associated with Seborrhea leaving your hair looking and feeling amazing Designed for normal hair

This daily shampoo provides a gentle balance of moisture and protein to strengthen and add suppleness to hair.

Evening primrose and starflower oils also provide protection against both environmental and thermal damage.

Hair is left feeling clean and fresh and in the optimum state for styling.




$16.00
Manufacture BackOrdered
K-PAK Color Therapy Shampoo     10.1 oz <!br> - Other sizes/options. <!/span><!br>


This color-preserving, reconstructing shampoo gently cleanses hair while improving its elasticity and shine and preventing color loss. Breakthrough QuadraBond Peptide Complex™ restores and protects hair's natural B-layer, resulting in more vibrant, longer lasting hair color.

$18.00

K-PAK Color Therapy Shampoo     33.8 oz <!br> - Other sizes/options. <!/span><!br>


This color-preserving, reconstructing shampoo gently cleanses hair while improving its elasticity and shine and preventing color loss. Breakthrough QuadraBond Peptide Complex™ restores and protects hair's natural B-layer, resulting in more vibrant, longer lasting hair color.

$31.00

K-Pak Reconstruct Shampoo, for Damaged Hair     10.1 fl. oz. <!br> <!/span><!br>


K-Pak, Reconstruct Shampoo, for damaged hair - Developed to begin the reconstruction process, this rich formulation cleanses the hair gently while drenching it in a rich, luxurious lather. Leaves hair soft and manageable without weighing it down.

$16.00

K-Pak Reconstruct Shampoo, for Damaged Hair     33.8 oz <!br> <!/span><!br>


K-Pak, Reconstruct Shampoo, for Damaged Hair. Developed to begin the reconstruction process, this rich formulation cleanses the hair gently while drenching it in a rich, luxurious lather. Leaves hair soft and manageable without weighing it down.

$32.00

Moisture Recovery Shampoo     10.1 oz <!br> - Other sizes/options. <!/span><!br>


Designed for: dry hair Benefits: The first step to revitalizing dry hair. This hair-quenching shampoo provides gentle cleansing while restoring hair s moisture level. Moisture Recovery s exclusive Hydramine Sea Complex, combined with Joico s Quadramine Complex repairs and reconstructs, restores vital fluids and provides intense moisturization. Hair emerges hydrated, smooth and manageable with increased elasticity.

$16.00

Moisture Recovery Shampoo     33.8 oz <!br> - Other sizes/options. <!/span><!br>


Designed for: dry hair Benefits: The first step to revitalizing dry hair. This hair-quenching shampoo provides gentle cleansing while restoring hair s moisture level. Moisture Recovery s exclusive Hydramine Sea Complex, combined with Joico s Quadramine Complex repairs and reconstructs, restores vital fluids and provides intense moisturization. Hair emerges hydrated, smooth and manageable with increased elasticity.

$33.00

Silk Result Smoothing Shampoo for Thick/Coarse Hair     10.1 oz <!br> <!/span><!br>


Designed for thick/coarse hair
A luxuriously rich formula that cleanses and hydrates thick/coarse hair.
Repairs and restructures hair for a silky smooth finish.


$12.00
Out of Stock
Dry Spray Wax     3.7 oz <!br> <!/span><!br>


Designed for: Those who desire a textured, next-day hair look.

$20.00
Out of Stock
Gloss Wax     1.7 oz <!br> <!/span><!br>


Designed for: Those with short-to-mid-length hair who desire high-impact shine and light, flexible hold.

$24.00

Humidity Blocker     4.5 oz <!br> <!/span><!br>


Designed for: All hair types to lock out humidity, eliminate frizz and prevent the style from collapsing.

$23.00

K-Pak Smoothing Balm for Healthy Hair     6.8 fl. oz. <!br> <!/span><!br> This item is BACKORDERED from the manufacturer.
We will hold your order until supply is delivered



Temporarily straightens hair the healthy way, with heat-activated conditoners. Eliminates frizz. Heat activated conditioners penetrate deep for strength and shine.

$21.00
Manufacture BackOrdered
K-Pak Reconstruct Split End Mender     3.4 fl. oz. <!br> <!/span><!br> This item is DISCONTINUED by the manufacturer.




Designed for damaged, chemically treated hair, to both mend existing split ends and prevent new ones from forming. Features an exclusive dual-polymer technology that deeply penetrates porous hair ends to create an ultra durable bond. Also contains a combination of K-PAK technologies Quadramine Complex, Keratin Silicone Complex and Hair Protection System - ensures maximum protection and reconstruction from the cortex, locks in moisture, seals the cuticle, and delivers smoothness to the hair.

$15.00

Creme Wax     1.7 fl. oz. <!br> <!/span><!br>

$15.00
Out of Stock
UPC: 074469446280