Terax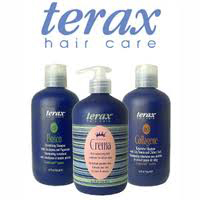 Terax Hair Care Products FROM ITALY
We have created a new line of old favorites, featuring our most
popular shampoos, conditioners and styling products. With a
combination of modern ingredients and carefully selected
botanicals, the focus is on creating healthy hair from the inside out.
These new products do not contain any sulfates, salts or artificial colors.
Crema, the line's star product, is the only formula that remains
unchanged, albeit for a fresh new fragrance.
Bathe your hair in luxury, with the new line of Terax® hair care products.

Celebrities who use this brands products

| | | | | | |
| --- | --- | --- | --- | --- | --- |
| Jennifer Jason Leigh | Parker Posey | Embeth Davitdz | Kate Beckinsale | Lake Bell | Heather Graham |
Crema     6.7 oz. <!br> <!/span><!br>


Terax Crema Tube - A softening,detangling,and conditioning treatment for split ends and hair damaged by chlorine and salt.Recurrent use of Terax helps to solve the problem of split ends,dryness and generally damaged hair.

$22.00

Crema     16.9 oz. <!br> <!/span><!br>


Terax Crema- A softening, detangling and conditioning treatment for split ends and hair damaged by chlorine and salt. Recurrent use of Terax helps to solve the problem of split ends, dryness and generally damaged hair.

$48.00

Hydrate Botanica Leave-in Moisturizer     6.7 Fl. oz. <!br> <!/span><!br>


Terax Lotion - A leave in moisturizer, for dry or brittle hair. Especially formulated to help restore and maintain the ideal condition of the hair. Through its lightly acid formulation balances the properties of the hair which can cause premature drying. Excellent when used after any chemical treatment.

$24.00

Life Drops Leave-in Protein Treatment     6.7oz. <!br> <!/span><!br>


Life Drops - Life drops is not a treatment for the scalp, it is necessary that the product is carefully applied to the tips and lengths of hair rather than to the scalp of the head. It is especially helpful before blow drying curly hair to help smoothness. It is a special restorer which prevents overdrying of the hair cuticle.

$20.00

Styling Gel     <!br> <!/span><!br>


Styling gel designed to hold hairstyle all day long without excess weight. Recommended for all types of hair. For shorter hair, style can be reactivated by applying a small amount of water to the hair, then simply restyle.

$12.00

Collagene Shampoo for Dry, Brittle Hair     12 fl. oz. <!br> <!/span><!br>


Collagene Shampoo, for dry, brittle hair - A super concentrated shampoo, for dry, brittle hair. With its natural ingredients and collagene extracts. Provides gentle cleansing while protecting dry hair from breakage.

$20.00

Collagene Shampoo for Dry. Brittle Hair     1 liter <!br> <!/span><!br>


Collagen Shampoo, for dry, brittle hair - A super concentrated shampoo, for dry, brittle hair. With its natural ingredients and collagene extracts. Provides gentle cleansing while protecting dry hair from breakage. -

$44.00

Shampoo Bosco For Oily Hair     12 fl oz <!br> <!/span><!br>


Shampoo Bosco - Cleansing action works with a soothing astringent effect. Coco derivatives, eucalyptus extracts and menthol act as sebo-regulators and give a pleasant fresh sensation.

$20.00

Shampoo Delicato For Frequent Washing     12 oz. <!br> - Other sizes/options. <!/span><!br>


Shampoo Delicato - Delicate cleaning action makes hair bright, silky and easy to comb. Recommended for frequent users with normal hair that has not been chemically processed.

$20.00

Shampoo Delicato For Frequent Washing     1 liter <!br> - Other sizes/options. <!/span><!br>


Shampoo Delicato - Delicate cleaning action makes hair bright, silky and easy to comb. Recommended for frequent users with normal hair that has not been chemically processed. -

$44.00

Shampoo Latte For All Hair Types     12 oz. <!br> - Other sizes/options. <!/span><!br>


Shampoo Latte - Removes all buildup and residues such as chlorine, calcium, copper, salt and other hard water minerals without stripping the hair. For all hair types and can be used daily.

$20.00

Shampoo Latte For All Hair Types     1 liter <!br> - Other sizes/options. <!/span><!br>


Shampoo Latte - Removes all buildup and residues such as chlorine, calcium, copper, salt and other hard water minerals without stripping the hair. For all hair types and can be used daily.

$44.00

Shampoo Miele Hydrating Shampoo with Honey and Elder Flower     12 fl oz <!br> - Other sizes/options. <!/span><!br>


Shampoo Miele - Formulated for normal to dry hair, Miele cleans and protects with:

Honey and Elder Flower for moisture
Wheat protein for strength

All Terax Shampoos feature the exclusive Gentlewash system designed to cleanse hair without stripping natural emollients, and help preserve color with natural Sunflower Seed Extract. All hair and body products do not contain sulfates.

$20.00

Shampoo Miele Hydrating Shampoo with Honey and Elder Flower     1 liter <!br> - Other sizes/options. <!/span><!br>


Shampoo Miele - Formulated for normal to dry hair, Miele cleans and protects with: Honey and Elder Flower for moisture Wheat protein for strength All Terax Shampoos feature the exclusive Gentlewash system designed to cleanse hair without stripping natural emollients, and help preserve color with natural Sunflower Seed Extract. All hair and body products do not contain sulfates.

$44.00

Complete Shave Cream     5 fl. oz. <!br> <!/span><!br>


PR&amp#39AX Wonderful, Multi-purpose for a Smooth Perfect Shave.

$12.00

Finishing Spray     10 oz. <!br> <!/span><!br>


A fast drying, medium hold spray with vitamin B5 moisturizer for thicker, fuller hair antioxidant vitamin E to help neutralize free radical damage and sunscreen to help protect hair against harmful UVB rays.

$18.00

Gloss     1 fl. oz. <!br> <!/span><!br>


Gloss - It is a silicone gloss for shiny hair. After styling place 2 drops into the palm of hand and topically apply to hair.

$16.00