SamPar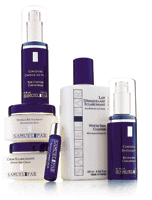 SamPar Skin Care Products, Sam Par of France Skin Care, SamPar, formally Samuel Par Skin Care Products.
Sampar

Environmental damage is the number one cause of premature skin aging. Nowhere does our skin face more danger than in heavily polluted cities. Paris-based Sampar skin care line finally lets us enjoy fine city living without the harmful pollutants bombarding our skin with its incredibly elegant protecting and cleansing formulas.
Sampar's specialized formulas combine nanotechnology, aromatherapy and high concentrations of all-natural and high-tech ingredients to protect our skin and keep it looking young and vibrant. It helps protect shield our skin against environmental aggressors while improving the overall look and feel by nourishing, moisturizing and repairing.


SamPar This exclusive French skin-care line will not only reinforce your belief in status beauty products, it may subconsciously induce your golf-obsessed husband to scrub his sadly neglected T-zone. Miracles do happen, girls.

Clear Solution Mask     1.7 fl oz <!br> <!/span><!br>


Zinc & kaolin
Ideal for oily and problem skins
Leaves the skin feeling light with clarity
Protects from aggressive environmental elements

Urban Active

Made in France

Retail: $45.00
SAVE: $27.00
Your Price: $18.00


Nocturnal Lifting Mask     1.7 fl. oz. <!br> <!/span><!br>


Nocturnal Lifting Mask - In the morning the oval of the face is remodeled, skin is firmer, more fortified and fresh.

Retail: $95.00
SAVE: $43.05
Your Price: $51.95

Out of Stock
Serum Lumineux     1 fl. oz. <!br> <!/span><!br>


Serum Lumineux - Citrus bioflavonoids.
Brightens complexion.
Protects from aggressive environmental elements.


Retail: $70.00
SAVE: $40.05
Your Price: $29.95