Kenra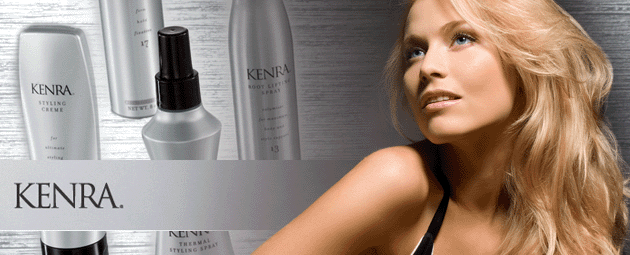 Kernra Professional Hair Care Products
Classic. Quality. Haircare.

Classic. Extensive experience.

For more than 50 years, Kenra has been formulating and producing hair care products using only the finest ingredients. Kenra is a privately held company, and we take great pride in our approach to doing business. While we are constantly moving our research and development into the future and working to discover innovative ingredients and results, our approach to doing business has not changed: We provide personalized support to our customers, we treat every customer with the highest regard, we create and formulate high performance hair care products, and we execute programs for salons that build customer loyalty.

Quality. 100% Guarantee.

The Kenra philosophy is simple: We are committed to offering the highest quality hair care products exclusively to professional salons and spas. We guarantee every product. That means, if for any reason a customer is not satisfied with the performance of a Kenra product, she or he may return it for a full refund. We can make such a promise because we work closely with the laboratory to develop our own formulas and manage every step of the production process to optomize quality control. Kenra products perform consistently for you. We guarantee it.

Color Maintenance Conditioner     10.1 oz <!br> - Other sizes/options. <!/span><!br>


Silk protein conditioner for color-treated hair.


Revitalize color and chemically-treated hair to a softer, smoother, shinier condition. Silk proteins help repair and strengthen, while olive oil-derived Squalane adds shine and elasticity. Extra emollients readily detangles chemically altered hair.



$11.00

Color Maintenance Conditioner     33.8 oz. <!br> - Other sizes/options. <!/span><!br>


Silk protein conditioner for color-treated hair.


Revitalize color and chemically-treated hair to a softer, smoother, shinier condition. Silk proteins help repair and strengthen, while olive oil-derived Squalane adds shine and elasticity. Extra emollients readily detangles chemically altered hair.



$25.00

Daily Provision Conditioner     8 oz <!br> <!/span><!br>


Lightweight leave-in conditioner.


Hydrate and nurture dry, damaged or color-treated hair with this lightweight, leave-in conditioner. Silk protein-enhanced formula moisturizes, detangles and adds shine. Helps control static and frizz. Provides thermal protection and contains sunscreens to offer UV light protection.

$12.00

Moisturizing Conditioner     10.1 oz <!br> - Other sizes/options. <!/span><!br>


Kenra Moisturizing Conditioner - Improves elasticity and manageability in dry, damaged hair. Wheat proteins moisturize naturally curly and coarse hair. Readily detangles and imparts shine

$12.00

Moisturizing Conditioner     33.8 oz. <!br> - Other sizes/options. <!/span><!br>


Kenra Moisturizing Conditioner - Improves elasticity and manageability in dry, damaged hair. Wheat proteins moisturize naturally curly and coarse hair. Readily detangles and imparts shine

$28.00

Platinum Color Care Moisturizer     8.5 oz <!br> <!/span><!br>


For Normal/ Medium Hair.
Revitalizes and fortifies dry, damaged hair
Replenishes moisture lost during color treatment
Mango butter softens and smoothes

$20.00

Platinum Reconstructor Shea Butter for thick | course hair     8.5 oz <!br> <!/span><!br>


Kenra Platinum Reconstructor for Thick to Coarse Hair - Deeply penetrates hair for maximum conditioning. Kenra Platinum Reconstructor replenishes moisture lost during color treatment. Shea butter provides intense hydration.

$20.00

Volumizing Conditioner     10.1 oz <!br> - Other sizes/options. <!/span><!br>


Lightweight formula for volume and fullness.


Add body and fullness with this volume-enhancing conditioner. Silk protein-enriched formula restores strength and manageability to hair.

$11.00

Volumizing Conditioner     33.8 oz. <!br> - Other sizes/options. <!/span><!br>


Lightweight formula for volume and fullness.


Add body and fullness with this volume-enhancing conditioner. Silk protein-enriched formula restores strength and manageability to hair.

$25.00

Clarifying Shampoo     10.1 oz <!br> <!/span><!br>


Chelating formula for removing dulling deposits.


Restore hair's natural radiance and shine with this special clarifying formula. Extracts of Grapefruit and Witch Hazel along with amino acid chelators eliminate dulling deposits and build-up. Great for swimmers and those in hard water areas. Color safe. Gentle for everyday use.


$10.00

Color Maintenance Shampoo     10.1 oz <!br> - Other sizes/options. <!/span><!br>


Gentle Formula to help preserve color.


Help preserve haircolor with this extra-gentle, color-friendly formula. Unique coconut oil derived cleansers and botanical extracts work to maintain color integrity.


$9.50

Color Maintenance Shampoo     33.8 oz. <!br> - Other sizes/options. <!/span><!br>


Gentle Formula to help preserve color.


Help preserve haircolor with this extra-gentle, color-friendly formula. Unique coconut oil derived cleansers and botanical extracts work to maintain color integrity.


$20.00

Dandruff Shampoo     10.1 oz <!br> <!/span><!br>


Treatment for dandruff and other scalp conditions.


Kenra medicated anti-dandruff shampoo relieves itching and flaking of the scalp associated with seborrheic dermatitis and dandruff. This ultra-gentle formula leaves hair silky and manageable, while helping to prevent further dandruff development.


$18.00

Moisturizing Shampoo     10.1 oz <!br> - Other sizes/options. <!/span><!br>


Hydrating formula for added moisture.

Hydrate dry hair with this moisture-enriching shampoo. Formulated with extra emollients and hydrolyzed wheat protein, this cleanser corrects moisture deficiency and improves manageability.

$18.00

Moisturizing Shampoo     33.8 oz. <!br> - Other sizes/options. <!/span><!br>


Hydrating formula for added moisture.

Hydrate dry hair with this moisture-enriching shampoo. Formulated with extra emollients and hydrolyzed wheat protein, this cleanser corrects moisture deficiency and improves manageability.

$22.00

Platinum Shampoo Normal Medium     10.1OZ <!br> <!/span><!br>


Protect your hair color investment with Kenra Platinum Color Care Shampoo for normal to medium hair. Shampoos with sulfate can strip hair color

$20.00
Out of Stock
Platinum Shampoo for normal | medium hair     10.1 oz <!br> <!/span><!br>


Wheat Proteins add maximum hydration and improve texture and appearance of hair * Silk Proteins add strength and help repair * Sulfate-free

$15.00

Platinum Shampoo for thick | coarse hair     10.1 oz <!br> <!/span><!br>


Wheat Proteins add maximum hydration and improve texture and appearance of hair * Silk Proteins add strength and help repair * Sulfate-free

$20.00

Volumizing Shampoo     10.1 oz <!br> - Other sizes/options. <!/span><!br>


Bodifying formula for volume and fullness.

Amplify fine, lifeless hair with this volume-enhancing shampoo. Proteins and Panthenol (Vitamin B-5) help to create body and fullness.


$18.00

Volumizing Shampoo     33.8 oz. <!br> - Other sizes/options. <!/span><!br>


Bodifying formula for volume and fullness.

Amplify fine, lifeless hair with this volume-enhancing shampoo. Proteins and Panthenol (Vitamin B-5) help to create body and fullness.


$22.00

Creme Paste     3.4 fl oz. <!br> <!/span><!br>


Kenra Creme Paste - Hold Index: 20. Strong, ultra-flexible hold for maximum control. Creme-based formulation gives bold definition and texture. Kenra Creme Paste provides matte finish.

$18.00

Grooming Pomade     2 oz <!br> <!/span><!br>


Kenra Platinum Grooming Pomade - Hold Index: 4. For a clean, flexible hold. Water-based formula rinses out easily and won't build up. Kenra Platinum Grooming Pomade provides exceptional shine

$15.00

Shaping Creme     4 oz <!br> <!/span><!br>


shape & form, For soft definition and moveable style. Lightweight formula glides easily through hair. Provides light shine.

$18.00

Texturizing Taffy     2 oz <!br> <!/span><!br>


Kenra Platinum Texturizing Taffy - Hold Index: 13 For flexible styling without stiffness. Pliable formula creates superior memory and control. Provides matte finish.

$18.00

Thermal Styling Spray 19     10 oz <!br> <!/span><!br>


Kenra Thermal Styling Spray is a heat-activated styling spray specially formulated for use with thermal styling tools.

$16.60

Volume Mousse     8 oz <!br> <!/span><!br>


Medium hold fixative.

Hold Index: 12



Style and control hair without stiffness or stickiness with this medium hold, lightweight mousse. Conditioning formula leaves all hair types shiny and manageable. Perfect for blow-dry styling.

$14.00

Volume Mousse Extra 17     8 oz <!br> <!/span><!br>


Firm hold fixative.

Hold Index: 17


Formerly Artformation Mousse


Style and control hair without stiffness or stickiness with this firm hold, lightweight mousse. Rich formula spreads easily through the hair to provide maximum body and fullness. Perfect for enhancing curl definition in permed or naturally curly hair.

$12.00

Volume Spray 25     10 oz <!br> <!/span><!br>


Kenra Volume Hairspray - Hold Index: 25. Super all-day hold, fast-drying formula for finishing any style. Imparts maximum volume and control. Provides excellent humidity resistance.

For super hold finish, hold Kenra Volume Spray 8 to 10 inches away, spray in short bursts. To build volume, spray between layers at base. To secure long hair, apply Kenra Volume Hairspray over finished style.

$17.00