Gray Disappear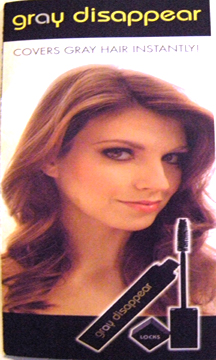 COVERS GREY HAIR INSTANTLY
KEEPS GRAY HAIR AWAY IN BETWEEN EXPENSIVE SALON VISITS
EASY TO USE
WASHES OUT WITH SHAMPOO
MEN, THIS UNIQUE PRODUCTS CAN ALSO BE USED ON GRAY HAIRS OF YOUR MOUSTACHE OR BEARD.

Paraben Free, Sulfate Free, PG Free, Rich with Antioixidants, Vitamin E, Panthenol, Natural Waxes.
One of the Nations Best Sellers
Comes in Four Beautiful Shades:
Onyx (Black), Expresso (Brown),Blaze (Red), and Gold.


Blaze - Red     0.2oz <!br> <!/span><!br>


COVERS GRAY HAIR WITHIN SECONDS! EASY TO USE BRUSH. KEEPS GRAY HAIR AWAY IN BETWEEN EXPENSIVE SALON VISITS. WASHES OUT WITH SHAMPOO. MEN, THIS UNIQUE PRODUCT CAN ALSO BE USED ON THE GRAY HAIRS OF YOUR MOUSTACHE OR BEARD! LOOK YEARS YOUNGER WITH EASE AND IN AN INSTANT!

$16.00

Espresso - Brown     0.2oz <!br> <!/span><!br>


COVERS GRAY HAIR WITHIN SECONDS! EASY TO USE BRUSH. KEEPS GRAY HAIR AWAY IN BETWEEN EXPENSIVE SALON VISITS. WASHES OUT WITH SHAMPOO. MEN, THIS UNIQUE PRODUCT CAN ALSO BE USED ON THE GRAY HAIRS OF YOUR MOUSTACHE OR BEARD! LOOK YEARS YOUNGER WITH EASE AND IN AN INSTANT!

$16.00

Gold - Blonde     0.2oz <!br> <!/span><!br>


COVERS GRAY HAIR WITHIN SECONDS! EASY TO USE BRUSH. KEEPS GRAY HAIR AWAY IN BETWEEN EXPENSIVE SALON VISITS. WASHES OUT WITH SHAMPOO. MEN, THIS UNIQUE PRODUCT CAN ALSO BE USED ON THE GRAY HAIRS OF YOUR MOUSTACHE OR BEARD! LOOK YEARS YOUNGER WITH EASE AND IN AN INSTANT!

$16.00

Onyx - Black     0.2oz <!br> <!/span><!br>


COVERS GRAY HAIR WITHIN SECONDS! EASY TO USE BRUSH. KEEPS GRAY HAIR AWAY IN BETWEEN EXPENSIVE SALON VISITS. WASHES OUT WITH SHAMPOO. MEN, THIS UNIQUE PRODUCT CAN ALSO BE USED ON THE GRAY HAIRS OF YOUR MOUSTACHE OR BEARD! LOOK YEARS YOUNGER WITH EASE AND IN AN INSTANT!

$16.00