QUICK LOOK
Brushes
brush
Lip Pencil
Lip Pencil
Loose Powder
Loose Powder
Make up
Concealer
Makeup-Bases
UltraBase
Makeup-Blush
Blush Cream
Makeup-Concealer
Concealer
Makeup-Corrective
Corrective Highlight
Corrective Shading
Corrector
Pro Touch
ProTouch
Makeup-Creams
Ultimatte
Makeup-Neutralizer
Neutralizer
Pressed Powder
Pressed Powder
Joe Blasco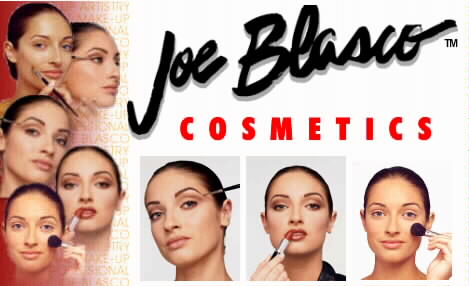 Joe Blasco Make Up , Joe Blasco, Joe Blasco Cosmetics , Hollywood makeup artist
The name Joe Blasco is rapidly becoming as well-known to the general public as it already is in the makeup industry. Mr. Blasco is highly respected and world-famous for his work in the development of new and unique techniques for special makeup effects. He is an innovator of the, "Bladder technique" utilized in films depicting horror/monster transformations showing bulging and bubbling skin effects. He is also recognized as an expert in the realm of cosmetics compounding, high-fashion beauty makeup, and makeup artistry education.
He was awarded a scholarship to cosmetology school, and after graduating in 1964 at the age of 18 he arrived in Hollywood to work for the Max Factor Cosmetics Company as a traveling makeup artist representative. After receiving their training he discovered he was to be sent to Pittsburgh to represent the company in various department stores. Unhappy with the situation, he left the Factor Company with $50 in his pocket to pursue a career in Hollywood as a makeup artist.

He worked six months as a telephone salesperson for the Time-Life Magazine Company, then went to work as a copy dispatcher and advertising trainee for the Los Angeles Times.
Blasco served as head makeup artist on numerous television shows and motion pictures all of which dealt with creative makeup ranging from beautiful high-fashion to special horror and science fiction creations including: His existing and growing knowledge of the art of makeup.

| | | |
| --- | --- | --- |
| | brush     <!br> <!/span><!br> | $36.00 |
Lip Pencil     Chianti <!br> <!/span><!br>


For lip lining which are highly pigmented for long-lasting color, greater longevity, yet soft enough in consistency to blend easily. These rich and creamy pencils are superior precision tools that glide on effortlessly! Joe Blasco lip pencils are available in a soft formula which can be used for either full lip coloring or lip lining.

$20.00

Loose Powder     Dark <!br> - Other sizes/options. <!/span><!br>


Ultra-Fine Setting Powder.

Regular: $49.80
SAVE: $20.80
Your Price: $29.00


Loose Powder     Golden Ultra Fine <!br> - Other sizes/options. <!/span><!br>


Ultra-Fine Setting Powder.

Regular: $49.80
SAVE: $20.80
Your Price: $29.00


Loose Powder     Pearl White <!br> - Other sizes/options. <!/span><!br>


Loose Powder Hi-Tone Intensifier Pearl White Highly reflective pearl powder for dazzling effects on light skin.

Regular: $49.80
SAVE: $20.80
Your Price: $29.00


Loose Powder     Yellow Gold <!br> - Other sizes/options. <!/span><!br>


Loose Powder Hi-Tone Intensifier Highly reflective gold powder for dazzling effects on dark skin.

Regular: $49.80
SAVE: $20.80
Your Price: $29.00


Loose Powder     Ebony <!br> - Other sizes/options. <!/span><!br>


Ultra-Fine Setting Powder.

Regular: $49.80
SAVE: $20.80
Your Price: $29.00


Loose Powder     Hi-Tone Bronzer <!br> <!/span><!br>


A shimmering, silky smooth bronze intensifier. This is our newest, very popular body bronzing powder.

Regular: $49.80
SAVE: $20.80
Your Price: $29.00


Loose Powder     No Color <!br> - Other sizes/options. <!/span><!br>


Ultra-Fine Setting Powder.

Regular: $49.80
SAVE: $20.80
Your Price: $29.00


Loose Powder     Light <!br> - Other sizes/options. <!/span><!br>


Ultra-Fine Setting Powder.

Regular: $49.80
SAVE: $20.80
Your Price: $29.00


Loose Powder     Medium <!br> - Other sizes/options. <!/span><!br>


Ultra-Fine Setting Powder.

Regular: $49.80
SAVE: $20.80
Your Price: $29.00


Concealer     Dermacel Blue-away <!br> - Other sizes/options. <!/span><!br>


A waterproof concealer. This special, high-pigmented cream formula is used to conceal discolorations, birthmarks, colored flat scars, freckles, and very dark under-eye shadows. Apply as follows: Scoop a small amount of Dermacealâ"¢ from the container with a cosmetic spatula. Spread over discoloration with spatula then rub with fingers to blend. Pat to stabilize and powder lightly with Blasco No-Color

Regular: $27.60
SAVE: $4.60
Your Price: $23.00


Concealer     Dermacel Dark <!br> - Other sizes/options. <!/span><!br>


A waterproof concealer. This special, high-pigmented cream formula is used to conceal discolorations, birthmarks, colored flat scars, freckles, and very dark under-eye shadows. Apply as follows: Scoop a small amount of Dermacealâ"¢ from the container with a cosmetic spatula. Spread over discoloration with spatula then rub with fingers to blend. Pat to stabilize and powder lightly with Blasco No-Color

Regular: $27.60
SAVE: $4.60
Your Price: $23.00


Concealer     Dermacel Medium <!br> - Other sizes/options. <!/span><!br>


A waterproof concealer. This special, high-pigmented cream formula is used to conceal discolorations, birthmarks, colored flat scars, freckles, and very dark under-eye shadows. Apply as follows: Scoop a small amount of Dermacealâ"¢ from the container with a cosmetic spatula. Spread over discoloration with spatula then rub with fingers to blend. Pat to stabilize and powder lightly with Blasco No-Color

Regular: $27.60
SAVE: $4.60
Your Price: $23.00


Concealer     Dermacel Red-away <!br> - Other sizes/options. <!/span><!br>


A waterproof concealer. This special, high-pigmented cream formula is used to conceal discolorations, birthmarks, colored flat scars, freckles, and very dark under-eye shadows. Apply as follows: Scoop a small amount of Dermacealâ"¢ from the container with a cosmetic spatula. Spread over discoloration with spatula then rub with fingers to blend. Pat to stabilize and powder lightly with Blasco No-Color

Regular: $27.60
SAVE: $4.60
Your Price: $23.00


Concealer     Dermacel Light <!br> - Other sizes/options. <!/span><!br>


A waterproof concealer. This special, high-pigmented cream formula is used to conceal discolorations, birthmarks, colored flat scars, freckles, and very dark under-eye shadows. Apply as follows: Scoop a small amount of Dermacealâ"¢ from the container with a cosmetic spatula. Spread over discoloration with spatula then rub with fingers to blend. Pat to stabilize and powder lightly with Blasco No-Color

Regular: $27.60
SAVE: $4.60
Your Price: $23.00


Concealer     Tattoo Cover 1 <!br> - Other sizes/options. <!/span><!br>


A waterproof concealer. This special, high-pigmented cream formula is used to conceal discolorations, birthmarks, colored flat scars, freckles, and very dark under-eye shadows. Apply as follows: Scoop a small amount of Dermacealâ"¢ from the container with a cosmetic spatula. Spread over discoloration with spatula then rub with fingers to blend. Pat to stabilize and powder lightly with Blasco No-Color


Regular: $27.60
SAVE: $4.60
Your Price: $23.00


Concealer     Tattoo Cover 2 <!br> - Other sizes/options. <!/span><!br>


A waterproof concealer. This special, high-pigmented cream formula is used to conceal discolorations, birthmarks, colored flat scars, freckles, and very dark under-eye shadows. Apply as follows: Scoop a small amount of Dermacealâ"¢ from the container with a cosmetic spatula. Spread over discoloration with spatula then rub with fingers to blend. Pat to stabilize and powder lightly with Blasco No-Color


Regular: $27.60
SAVE: $4.60
Your Price: $23.00


Concealer     Dermacel Light <!br> - Other sizes/options. <!/span><!br>


A waterproof concealer. This special, high-pigmented cream formula is used to conceal discolorations, birthmarks, colored flat scars, freckles, and very dark under-eye shadows. Apply as follows: Scoop a small amount of Dermacealâ"¢ from the container with a cosmetic spatula. Spread over discoloration with spatula then rub with fingers to blend. Pat to stabilize and powder lightly with Blasco No-Color

Regular: $27.60
SAVE: $4.60
Your Price: $23.00


UltraBase     Olive Beige 1 <!br> - Other sizes/options. <!/span><!br>


High-pigment Cream Base. Appears natural with only a very thin application. Needs less powder to set, and lasts much longer than any other makeup on the market today. Apply with wet or dry foam sponge, or fingertips.

Regular: $49.80
SAVE: $20.80
Your Price: $29.00


UltraBase     Olive <!br> - Other sizes/options. <!/span><!br>


High-pigment Cream Base. Appears natural with only a very thin application. Needs less powder to set, and lasts much longer than any other makeup on the market today. Apply with wet or dry foam sponge, or fingertips.

Regular: $49.80
SAVE: $20.80
Your Price: $29.00


UltraBase     Moon Haze <!br> - Other sizes/options. <!/span><!br>


High-pigment Cream Base. Appears natural with only a very thin application. Needs less powder to set, and lasts much longer than any other makeup on the market today. Apply with wet or dry foam sponge, or fingertips.

Regular: $49.80
SAVE: $20.80
Your Price: $29.00


UltraBase     Special Medium Olive 1 <!br> - Other sizes/options. <!/span><!br>


High-pigment Cream Base. Appears natural with only a very thin application. Needs less powder to set, and lasts much longer than any other makeup on the market today. Apply with wet or dry foam sponge, or fingertips.

Regular: $49.80
SAVE: $20.80
Your Price: $29.00


UltraBase     Medium Olive 3 <!br> - Other sizes/options. <!/span><!br>


High-pigment Cream Base. Appears natural with only a very thin application. Needs less powder to set, and lasts much longer than any other makeup on the market today. Apply with wet or dry foam sponge, or fingertips.

Regular: $49.80
SAVE: $20.80
Your Price: $29.00


UltraBase     Special Medium Olive 2 <!br> - Other sizes/options. <!/span><!br>


High-pigment Cream Base. Appears natural with only a very thin application. Needs less powder to set, and lasts much longer than any other makeup on the market today. Apply with wet or dry foam sponge, or fingertips.

Regular: $49.80
SAVE: $20.80
Your Price: $29.00


UltraBase     Warm Beige <!br> - Other sizes/options. <!/span><!br>


High-pigment Cream Base. Appears natural with only a very thin application. Needs less powder to set, and lasts much longer than any other makeup on the market today. Apply with wet or dry foam sponge, or fingertips.

Regular: $49.80
SAVE: $20.80
Your Price: $29.00


UltraBase     Medium Olive <!br> - Other sizes/options. <!/span><!br>


High-pigment Cream Base. Appears natural with only a very thin application. Needs less powder to set, and lasts much longer than any other makeup on the market today. Apply with wet or dry foam sponge, or fingertips.

Regular: $49.80
SAVE: $20.80
Your Price: $29.00


UltraBase     Honey <!br> - Other sizes/options. <!/span><!br>


High-pigment Cream Base. Appears natural with only a very thin application. Needs less powder to set, and lasts much longer than any other makeup on the market today. Apply with wet or dry foam sponge, or fingertips.

Regular: $49.80
SAVE: $20.80
Your Price: $29.00


UltraBase     Deep Ebony <!br> - Other sizes/options. <!/span><!br>


UltraBase Special Darkskin Collection Deep Ebony High-pigment Cream Base. Appears natural with only a very thin application. Needs less powder to set, and lasts much longer than any other makeup on the market today. Apply with wet or dry foam sponge, or fingertips.

Regular: $49.80
SAVE: $20.80
Your Price: $29.00


UltraBase     Natural Beige 3 <!br> - Other sizes/options. <!/span><!br>


High-pigment Cream Base. Appears natural with only a very thin application. Needs less powder to set, and lasts much longer than any other makeup on the market today. Apply with wet or dry foam sponge, or fingertips.

Regular: $49.80
SAVE: $20.80
Your Price: $29.00


UltraBase     Special Lite Olive 2 <!br> <!/span><!br>


High-pigment Cream Base. Appears natural with only a very thin application. Needs less powder to set, and lasts much longer than any other makeup on the market today. Apply with wet or dry foam sponge, or fingertips.

Regular: $49.80
SAVE: $20.80
Your Price: $29.00


UltraBase     Warm Olive 1 <!br> - Other sizes/options. <!/span><!br>


High-pigment Cream Base. Appears natural with only a very thin application. Needs less powder to set, and lasts much longer than any other makeup on the market today. Apply with wet or dry foam sponge, or fingertips.

Regular: $49.80
SAVE: $20.80
Your Price: $29.00


UltraBase     Warm Olive 2 <!br> - Other sizes/options. <!/span><!br>


High-pigment Cream Base. Appears natural with only a very thin application. Needs less powder to set, and lasts much longer than any other makeup on the market today. Apply with wet or dry foam sponge, or fingertips.

Regular: $49.80
SAVE: $20.80
Your Price: $29.00


UltraBase     Warm Olive 3 <!br> - Other sizes/options. <!/span><!br>


High-pigment Cream Base. Appears natural with only a very thin application. Needs less powder to set, and lasts much longer than any other makeup on the market today. Apply with wet or dry foam sponge, or fingertips.

Regular: $49.80
SAVE: $20.80
Your Price: $29.00


UltraBase     Deep Olive <!br> - Other sizes/options. <!/span><!br>


High-pigment Cream Base. Appears natural with only a very thin application. Needs less powder to set, and lasts much longer than any other makeup on the market today. Apply with wet or dry foam sponge, or fingertips.

Regular: $49.80
SAVE: $20.80
Your Price: $29.00


UltraBase     Peachtone <!br> - Other sizes/options. <!/span><!br>


High-pigment Cream Base. Appears natural with only a very thin application. Needs less powder to set, and lasts much longer than any other makeup on the market today. Apply with wet or dry foam sponge, or fingertips.

Regular: $49.80
SAVE: $20.80
Your Price: $29.00


UltraBase     Ultra fair <!br> - Other sizes/options. <!/span><!br>


High-pigment Cream Base. Appears natural with only a very thin application. Needs less powder to set, and lasts much longer than any other makeup on the market today. Apply with wet or dry foam sponge, or fingertips.

Regular: $49.80
SAVE: $20.80
Your Price: $29.00


UltraBase     Olive Beige 3 <!br> - Other sizes/options. <!/span><!br>


High-pigment Cream Base. Appears natural with only a very thin application. Needs less powder to set, and lasts much longer than any other makeup on the market today. Apply with wet or dry foam sponge, or fingertips.

Regular: $49.80
SAVE: $20.80
Your Price: $29.00


UltraBase     Natural Bronze <!br> - Other sizes/options. <!/span><!br>


High-pigment Cream Base. Appears natural with only a very thin application. Needs less powder to set, and lasts much longer than any other makeup on the market today. Apply with wet or dry foam sponge, or fingertips.

Regular: $49.80
SAVE: $20.80
Your Price: $29.00


UltraBase     Natural Tan <!br> - Other sizes/options. <!/span><!br>


High-pigment Cream Base. Appears natural with only a very thin application. Needs less powder to set, and lasts much longer than any other makeup on the market today. Apply with wet or dry foam sponge, or fingertips.

Regular: $49.80
SAVE: $20.80
Your Price: $29.00


UltraBase     Summertone <!br> - Other sizes/options. <!/span><!br>


High-pigment Cream Base. Appears natural with only a very thin application. Needs less powder to set, and lasts much longer than any other makeup on the market today. Apply with wet or dry foam sponge, or fingertips.

Regular: $49.80
SAVE: $20.80
Your Price: $29.00


UltraBase     Suntan <!br> - Other sizes/options. <!/span><!br>


High-pigment Cream Base. Appears natural with only a very thin application. Needs less powder to set, and lasts much longer than any other makeup on the market today. Apply with wet or dry foam sponge, or fingertips.

Regular: $49.80
SAVE: $20.80
Your Price: $29.00


UltraBase     Maple <!br> - Other sizes/options. <!/span><!br>


High-pigment Cream Base. Appears natural with only a very thin application. Needs less powder to set, and lasts much longer than any other makeup on the market today. Apply with wet or dry foam sponge, or fingertips.

Regular: $49.80
SAVE: $20.80
Your Price: $29.00


UltraBase     Golden Olive 3 <!br> - Other sizes/options. <!/span><!br>


High-pigment Cream Base. Appears natural with only a very thin application. Needs less powder to set, and lasts much longer than any other makeup on the market today. Apply with wet or dry foam sponge, or fingertips.

Regular: $49.80
SAVE: $20.80
Your Price: $29.00


UltraBase     Golden Tan 1 <!br> - Other sizes/options. <!/span><!br>


High-pigment Cream Base. Appears natural with only a very thin application. Needs less powder to set, and lasts much longer than any other makeup on the market today. Apply with wet or dry foam sponge, or fingertips.

Regular: $49.80
SAVE: $20.80
Your Price: $29.00


UltraBase     Golden Tan 2 <!br> - Other sizes/options. <!/span><!br>


High-pigment Cream Base. Appears natural with only a very thin application. Needs less powder to set, and lasts much longer than any other makeup on the market today. Apply with wet or dry foam sponge, or fingertips.

Regular: $49.80
SAVE: $20.80
Your Price: $29.00


UltraBase     Golden Tan 3 <!br> - Other sizes/options. <!/span><!br>


High-pigment Cream Base. Appears natural with only a very thin application. Needs less powder to set, and lasts much longer than any other makeup on the market today. Apply with wet or dry foam sponge, or fingertips.

Regular: $49.80
SAVE: $20.80
Your Price: $29.00


UltraBase     Alabaster <!br> - Other sizes/options. <!/span><!br>


High-pigment Cream Base. Appears natural with only a very thin application. Needs less powder to set, and lasts much longer than any other makeup on the market today. Apply with wet or dry foam sponge, or fingertips.

Regular: $49.80
SAVE: $20.80
Your Price: $29.00


UltraBase     Olive Beige 2 <!br> - Other sizes/options. <!/span><!br>


High-pigment Cream Base. Appears natural with only a very thin application. Needs less powder to set, and lasts much longer than any other makeup on the market today. Apply with wet or dry foam sponge, or fingertips.

Regular: $49.80
SAVE: $20.80
Your Price: $29.00


UltraBase     Special Lite Olive 1 <!br> - Other sizes/options. <!/span><!br>


High-pigment Cream Base. Appears natural with only a very thin application. Needs less powder to set, and lasts much longer than any other makeup on the market today. Apply with wet or dry foam sponge, or fingertips.

Regular: $49.80
SAVE: $20.80
Your Price: $29.00


UltraBase     Special Lite Olive 3 <!br> - Other sizes/options. <!/span><!br>


High-pigment Cream Base. Appears natural with only a very thin application. Needs less powder to set, and lasts much longer than any other makeup on the market today. Apply with wet or dry foam sponge, or fingertips.

Regular: $49.80
SAVE: $20.80
Your Price: $29.00


UltraBase     Natural Beige 1 <!br> - Other sizes/options. <!/span><!br>


High-pigment Cream Base. Appears natural with only a very thin application. Needs less powder to set, and lasts much longer than any other makeup on the market today. Apply with wet or dry foam sponge, or fingertips.

Regular: $49.80
SAVE: $20.80
Your Price: $29.00


UltraBase     Natural Beige 2 <!br> - Other sizes/options. <!/span><!br>


High-pigment Cream Base. Appears natural with only a very thin application. Needs less powder to set, and lasts much longer than any other makeup on the market today. Apply with wet or dry foam sponge, or fingertips.

Regular: $49.80
SAVE: $20.80
Your Price: $29.00


UltraBase     Golden Olive 1 <!br> - Other sizes/options. <!/span><!br>


UltraBase Golden Olive 1 High-pigment Cream Base UltraBase Golden Olive Gol High-pigment Cream Base. Appears natural with only a very thin application. Needs less powder to set, and lasts much longer than any other makeup on the market today. Apply with wet or dry foam sponge, or fingertips.

Regular: $49.80
SAVE: $20.80
Your Price: $29.00


UltraBase     Golden Olive 2 <!br> - Other sizes/options. <!/span><!br>


High-pigment Cream Base. Appears natural with only a very thin application. Needs less powder to set, and lasts much longer than any other makeup on the market today. Apply with wet or dry foam sponge, or fingertips.

Regular: $49.80
SAVE: $20.80
Your Price: $29.00


Blush Cream     Pastel Rose <!br> <!/span><!br>


Blush Cream Blush Natural Blush.

$15.00

Concealer     Dermaceal Red-away <!br> - Other sizes/options. <!/span><!br>


A waterproof concealer. This special, high-pigmented cream formula is used to conceal discolorations, birthmarks, colored flat scars, freckles, and very dark under-eye shadows. Apply as follows: Scoop a small amount of Dermaceal from the container with a cosmetic spatula. Spread over discoloration with spatula then rub with fingers to blend. Pat to stabilize and powder lightly with Blasco No-Color.

Regular: $27.60
SAVE: $4.60
Your Price: $23.00


Concealer     Dermaceal Tattoo Cover 2 <!br> - Other sizes/options. <!/span><!br>


A waterproof concealer. This special, high-pigmented cream formula is used to conceal discolorations, birthmarks, colored flat scars, freckles, and very dark under-eye shadows. Apply as follows: Scoop a small amount of Dermaceal from the container with a cosmetic spatula. Spread over discoloration with spatula then rub with fingers to blend. Pat to stabilize and powder lightly with Blasco No-Color.

Regular: $27.60
SAVE: $4.60
Your Price: $23.00


Concealer     Dermaceal Light <!br> - Other sizes/options. <!/span><!br>


A waterproof concealer. This special, high-pigmented cream formula is used to conceal discolorations, birthmarks, colored flat scars, freckles, and very dark under-eye shadows. Apply as follows: Scoop a small amount of Dermaceal from the container with a cosmetic spatula. Spread over discoloration with spatula then rub with fingers to blend. Pat to stabilize and powder lightly with Blasco No-Color.

Regular: $27.60
SAVE: $4.60
Your Price: $23.00


Concealer     Dermaceal Medium <!br> - Other sizes/options. <!/span><!br>


A waterproof concealer. This special, high-pigmented cream formula is used to conceal discolorations, birthmarks, colored flat scars, freckles, and very dark under-eye shadows. Apply as follows: Scoop a small amount of Dermacealâ&bdquo˘ from the container with a cosmetic spatula. Spread over discoloration with spatula then rub with fingers to blend. Pat to stabilize and powder lightly with Blasco No-Color.

Regular: $27.60
SAVE: $4.60
Your Price: $23.00


Concealer     Dermaceal Dark <!br> - Other sizes/options. <!/span><!br>


A waterproof concealer. This special, high-pigmented cream formula is used to conceal discolorations, birthmarks, colored flat scars, freckles, and very dark under-eye shadows. Apply as follows: Scoop a small amount of Dermaceal from the container with a cosmetic spatula. Spread over discoloration with spatula then rub with fingers to blend. Pat to stabilize and powder lightly with Blasco No-Color.

Regular: $27.60
SAVE: $4.60
Your Price: $23.00


Concealer     Dermaceal Tattoo Cover 1 <!br> - Other sizes/options. <!/span><!br>


A waterproof concealer. This special, high-pigmented cream formula is used to conceal discolorations, birthmarks, colored flat scars, freckles, and very dark under-eye shadows. Apply as follows: Scoop a small amount of Dermaceal from the container with a cosmetic spatula. Spread over discoloration with spatula then rub with fingers to blend. Pat to stabilize and powder lightly with Blasco No-Color.

Regular: $27.60
SAVE: $4.60
Your Price: $23.00


Concealer     Dermaceal Blue-away <!br> - Other sizes/options. <!/span><!br>


A waterproof concealer. This special, high-pigmented cream formula is used to conceal discolorations, birthmarks, colored flat scars, freckles, and very dark under-eye shadows. Apply as follows: Scoop a small amount of Dermaceal from the container with a cosmetic spatula. Spread over discoloration with spatula then rub with fingers to blend. Pat to stabilize and powder lightly with Blasco No-Color.

Regular: $27.60
SAVE: $4.60
Your Price: $23.00


Corrective Highlight     Xtra-Light <!br> - Other sizes/options. <!/span><!br>


These fine shading and highlighting products, unless indicated otherwise, come in the, Ultra-Base cream formula.

Regular: $27.90
SAVE: $3.90
Your Price: $24.00


Corrective Highlight     Orange <!br> - Other sizes/options. <!/span><!br>


These fine shading and highlighting products, unless indicated otherwise, come in the, Ultra-Base cream formula.

Regular: $27.90
SAVE: $3.90
Your Price: $24.00


Corrective Highlight     Orange <!br> - Other sizes/options. <!/span><!br>


These fine shading and highlighting products, unless indicated otherwise, come in the, Ultra-Base cream formula.

Regular: $27.90
SAVE: $3.90
Your Price: $24.00


Corrective Highlight     Darkskin <!br> - Other sizes/options. <!/span><!br>


These fine shading and highlighting products, unless indicated otherwise, come in the, Ultra-Base cream formula.

Regular: $27.90
SAVE: $3.90
Your Price: $24.00


Corrective Highlight     Special Yellow <!br> - Other sizes/options. <!/span><!br>


These fine shading and highlighting products, unless indicated otherwise, come in the, Ultra-Base cream formula.

Regular: $27.90
SAVE: $3.90
Your Price: $24.00


Corrective Highlight     Pink Highlight <!br> - Other sizes/options. <!/span><!br>


These fine shading and highlighting products, unless indicated otherwise, come in the, Ultra-Base cream formula.

Regular: $27.90
SAVE: $3.90
Your Price: $24.00


Corrective Shading     Darkskin <!br> - Other sizes/options. <!/span><!br>


These fine shading and highlighting products, unless indicated otherwise, come in the, Ultra-Base cream formula.

$14.00

Corrective Shading     Lightskin <!br> - Other sizes/options. <!/span><!br>


These fine shading and highlighting products, unless indicated otherwise, come in the, Ultra-Base cream formula.

$14.00

Corrector     Orange Stick <!br> - Other sizes/options. <!/span><!br>


Highlighting, in stick form. Easily applied before or after base.

These fine shading and highlighting products, unless indicated otherwise, come in the, Ultra-Base cream formula.

$18.00

Corrector     Yellow Stick <!br> - Other sizes/options. <!/span><!br>


Highlighting, in stick form. Easily applied before or after base.

These fine shading and highlighting products, unless indicated otherwise, come in the, Ultra-Base cream formula.


$18.00

Pro Touch     Orange <!br> <!/span><!br>


These fine shading and highlighting products, unless indicated otherwise, come in the, Ultra-Base cream formula.

$13.00

ProTouch     Yellow <!br> <!/span><!br>


These fine shading and highlighting products, unless indicated otherwise, come in the, Ultra-Base cream formula.

$13.00

Ultimatte     Eddie Leonard <!br> - Other sizes/options. <!/span><!br>


Can be used, as eye shadow, eye liner and Brow-ColorTM. This extraordinary, high-pigment product is truly versatile. It does not require water, will not flake, appear oily, or wear away. Apply with a dry brush and blend to a beautiful matte finish. Excellent for both youthful and mature skin.

Regular: $26.60
SAVE: $2.60
Your Price: $24.00


Ultimatte     Dark Gray <!br> - Other sizes/options. <!/span><!br>


Can be used, as eye shadow, eye liner and Brow-ColorTM. This extraordinary, high-pigment product is truly versatile. It does not require water, will not flake, appear oily, or wear away. Apply with a dry brush and blend to a beautiful matte finish. Excellent for both youthful and mature skin.

Regular: $26.60
SAVE: $2.60
Your Price: $24.00


Ultimatte     Cream Black <!br> <!/span><!br>


Can be used, as eye shadow, eye liner and Brow-ColorTM. This extraordinary, high-pigment product is truly versatile. It does not require water, will not flake, appear oily, or wear away. Apply with a dry brush and blend to a beautiful matte finish. Excellent for both youthful and mature skin.

Regular: $26.60
SAVE: $2.60
Your Price: $24.00


Ultimatte     Gray Violet <!br> - Other sizes/options. <!/span><!br>


Can be used, as eye shadow, eye liner and Brow-ColorTM. This extraordinary, high-pigment product is truly versatile. It does not require water, will not flake, appear oily, or wear away. Apply with a dry brush and blend to a beautiful matte finish. Excellent for both youthful and mature skin.

Regular: $26.60
SAVE: $2.60
Your Price: $24.00


Ultimatte     Medium Gray Brown <!br> - Other sizes/options. <!/span><!br>


Can be used, as eye shadow, eye liner and Brow-ColorTM. This extraordinary, high-pigment product is truly versatile. It does not require water, will not flake, appear oily, or wear away. Apply with a dry brush and blend to a beautiful matte finish. Excellent for both youthful and mature skin.

Regular: $26.60
SAVE: $2.60
Your Price: $24.00


Ultimatte     Taupe <!br> - Other sizes/options. <!/span><!br>


Can be used, as eye shadow, eye liner and Brow-ColorTM. This extraordinary, high-pigment product is truly versatile. It does not require water, will not flake, appear oily, or wear away. Apply with a dry brush and blend to a beautiful matte finish. Excellent for both youthful and mature skin.

Regular: $26.60
SAVE: $2.60
Your Price: $24.00


Ultimatte     Warm Light <!br> - Other sizes/options. <!/span><!br>


Can be used, as eye shadow, eye liner and Brow-ColorTM. This extraordinary, high-pigment product is truly versatile. It does not require water, will not flake, appear oily, or wear away. Apply with a dry brush and blend to a beautiful matte finish. Excellent for both youthful and mature skin.

Regular: $26.60
SAVE: $2.60
Your Price: $24.00


Neutralizer     Regular TVC 15 <!br> <!/span><!br>


These Color Correctives come in the exclusive, Ultra-Base cream formula.

$27.90

Neutralizer     Red 2 <!br> <!/span><!br>


These Color Correctives come in the exclusive, Ultra-Base cream formula.

$27.90

Neutralizer     Special Red <!br> - Other sizes/options. <!/span><!br>


These Color Correctives come in the exclusive, Ultra-Base cream formula.

$27.90

Neutralizer     Blue <!br> - Other sizes/options. <!/span><!br>


These Color Correctives come in the exclusive, Ultra-Base cream formula.

$27.90

Neutralizer     Special Blue <!br> - Other sizes/options. <!/span><!br>


These Color Correctives come in the exclusive, Ultra-Base cream formula.

$27.90

Neutralizer     Brown <!br> - Other sizes/options. <!/span><!br>


Neutralizer Brown Neutralizer These Color Correctives come in the exclusive, Ultra-Base cream formula.

$27.90

Neutralizer     Red 1 <!br> <!/span><!br>


Neutralizer Red Neutralizer 1 These Color Correctives come in the exclusive, Ultra-Base cream formula.

$27.90

Neutralizer     Muted Yellow <!br> <!/span><!br>


These Color Correctives come in the exclusive, Ultra-Base cream formula.

$27.90

Pressed Powder     Light <!br> - Other sizes/options. <!/span><!br>


Finishing Perfect-Pressed Powder Light Finish.

Regular: $32.80
SAVE: $3.80
Your Price: $29.00


Pressed Powder     No Color <!br> - Other sizes/options. <!/span><!br>


Finishing Perfect-Pressed Powder No Color.

Regular: $32.80
SAVE: $3.80
Your Price: $29.00


Pressed Powder     Medium Finish <!br> - Other sizes/options. <!/span><!br>


Finishing Perfect-Pressed Powder Medium Finish.

Regular: $32.80
SAVE: $3.80
Your Price: $29.00


Pressed Powder     Medium Finish <!br> - Other sizes/options. <!/span><!br>


Finishing Perfect-Pressed Powder Medium Finish.

Regular: $32.80
SAVE: $3.80
Your Price: $29.00


Pressed Powder     Bronze <!br> - Other sizes/options. <!/span><!br>


Finishing Perfect-Pressed Powder Bronze.

Regular: $32.80
SAVE: $3.80
Your Price: $29.00


Pressed Powder     bony Finish <!br> - Other sizes/options. <!/span><!br>


Finishing Perfect-Pressed Powder Ebony Finish.

Regular: $32.80
SAVE: $3.80
Your Price: $29.00


Pressed Powder     Gold <!br> - Other sizes/options. <!/span><!br>


Finishing Perfect-Pressed Powder Golden Finish.

Regular: $32.80
SAVE: $3.80
Your Price: $29.00


Celebrities who use this brands products

| | | | | | |
| --- | --- | --- | --- | --- | --- |
| Lauren Bacall | Orson Welles | Olivia Newton John | Roma Downey | Carol Burnett | Bette Midler |