AlfaParf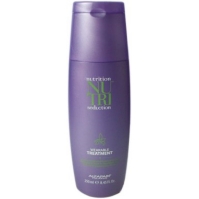 Nutri Seduction Wearable Treatment

A leave-in treatment that softens and tames very dry and rebellious hair. The special cashmere-based formula moisturises and protect and protect the capillary fiber, while phito-nutrients provide a daily dose of nutritious vitamins and mineral. Leaves hair moisturized and nourished and more disciplined, the hair feels silky soft for that special touch of cashmere feel. How to use: Apply to wet hair immediately after Ultra Moist Shampoo,or after the rinse out treatment for extremely dry or unruly hair. Leave-in and proceed to dry or style hair.
UPC: 8032679457924
 
Nutri Seduction Wearable Treatment
SIZES:

8.45 fl. oz.
$28.00
............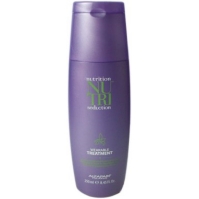 Discontinued!
Details


Alfaparf Semi Di Lino Moisture Nutritive Leave-In Conditioner (Dry Hair)     200M 6.76Oz <!br> <!/span><!br>


Weightlessly hydrate frizzy and dry hair with this sulfate-free leave-in conditioner. Made with a nutri-sugar complex and color fix complex to balance a healthy hydro-level of the hair shaft and to protect and maintain the hair color's intensity. Improves the hair's combability, shine and smoothness.

$25.00

Lisse Design Keratin Therapy Rehydrating Mask for Unisex     17.6 oz <!br> <!/span><!br>


Lises design keratin therapy 4 rehydrating mask was launched by the design house of alfapart It is recommended for casual wear Features a powerful moisturizing mask that adds hydration back to hair and prevents dryness while slowing the natural drying process

$40.00

Midollo di Bamboo-Recharing Mask     8.81 fl. oz. <!br> <!/span><!br> This item is BACKORDERED from the manufacturer.
We will hold your order until supply is delivered



Recharging treatment to repair and reinforce fragile, damage and weakened hair. The bio-reconstrutive action of bamboo marrow associated with Nanocomplex of Oligelements and Hydrolyzed Proteins guarantees total repair of the hair structure. Repairs internal damage, reconstructs the lipid bonds to maintain cohesion between the cuticle and cortex and reinforces the capillary surface, leaving it perfectly smooth and flexible. Ingredients for improving the hair structure and released by special carriers only where needed in application after application. Hair appears healthy and brilliant and is easy to comb.

$32.00
Manufacture BackOrdered
Nutri Seduction Luxury Mask     7.05 oz. <!br> <!/span><!br>


Cashmere wool by-products and Vitamin E, in the new gel formula, work together to obtain exceptional results without weighing hair down: softening and smoothing the cuticle, reinforcing and protecting the hair fiber. Hair, pleasing to caress, is restored with luminosity and moves freely.

$27.00

Nutri Seduction Ultra Moisture Treatment     7.05 oz <!br> <!/span><!br> This item is DISCONTINUED by the manufacturer.




Alfaparf Nutri Seduction Ultra Moisture Treatment is an intense hair replenishment system. This intense restoration treatment nourishes and replenishes hydration and protein for very dry and damaged hair. Vitamin F to promote the repair of lipid bonds between the cuticle and cortex of the hair and to reinforce the capillary fiber. Cashmere derivatives to protect against dehydration and external aggressions. Damaged keratin is repaired and optimal moisture levels restored. Hair replenishes strength and vitality and becomes wonderfully soft, with a cashmere-like feel.

$46.00

SDL Diamante Illuminating Conditioner     8.45 oz <!br> - Other sizes/options. <!/span><!br>


A new dimension in Luminosity... an exclusive combination of the unique shine of Linseed Extract with the luxurious sparkle of Diamons! Microcrystalline Conditioner is designed to maximize the shine and beauty of your hair without weighing it down. This unique formula, with Milk Proteins and Vitamin E, enriched in Diamond Crystals delivers daily nourishment while increasing hair strengh. Hair feels naturally soft, manageable and easy to style.

$24.00

SDL Diamante Illuminating Conditioner     33.8 oz <!br> - Other sizes/options. <!/span><!br>


A new dimension in Luminosity... an exclusive combination of the unique shine of Linseed Extract with the luxurious sparkle of Diamons! Microcrystalline Conditioner is designed to maximize the shine and beauty of your hair without weighing it down. This unique formula, with Milk Proteins and Vitamin E, enriched in Diamond Crystals delivers daily nourishment while increasing hair strengh. Hair feels naturally soft, manageable and easy to style.

$47.00

Semi di Lino Illuminating Shine Mask with Karitex     17.6 oz <!br> <!/span><!br>


A highly concentrated Karite Butter mask. This conditioner nourishes dry and damaged hair and leaves it soft, shiny and tangle-free. Linseed Extract smoothes the hair cuticle and makes it soft, easy to manage and full of shine.

$40.00

Semi di Lino Nutritive Mask for Dry Hair (old: Illuminating Shine Mask)     7.05 oz <!br> <!/span><!br>


A highly concentrated Karite Butter mask. This conditioner nourishes dry and damaged hair and leaves it soft, shiny and tangle-free. Linseed Extract smoothes the hair cuticle and makes it soft, easy to manage and full of shine.

Regular: $42.00
SAVE: $3.00
Your Price: $39.00


Semi di Lino Illuminating Hairspray     10.6 oz <!br> <!/span><!br>


A long-lasting hold spray that protects hair from humidity and frizziness without weighing hair down. A strong hold for any style.

$22.00

Midollo di Bamboo-Daily Repair     4.22 Fl. Oz <!br> <!/span><!br> This item is DISCONTINUED by the manufacturer.




Alfaparf Midollo di Bamboo Daily Repair is a leave-in treatment for fragile and extremely damaged hair. Instant care for finishing the process of reconstruction, sealing the cuticle and forming an effective protective barrier.

$25.00

Nutri leave in Conditioner (old Name Nutri Seduction Wearable Treatment     8.45 fl oz. <!br> <!/span><!br> This item is DISCONTINUED by the manufacturer.




A leave-in treatment that softens and tames very dry and rebellious hair. The special cashmere-based formula moisturises and protect and protect the capillary fiber, while phito-nutrients provide a daily dose of nutritious vitamins and mineral. Leaves hair moisturized and nourished and more disciplined, the hair feels silky soft for that special touch of cashmere feel. How to use: Apply to wet hair immediately after Ultra Moist Shampoo,or after the rinse out treatment for extremely dry or unruly hair. Leave-in and proceed to dry or style hair.

$25.00

Nutri Seduction Wearable Treatment     8.45 fl. oz. <!br> <!/span><!br> This item is DISCONTINUED by the manufacturer.




A leave-in treatment that softens and tames very dry and rebellious hair. The special cashmere-based formula moisturises and protect and protect the capillary fiber, while phito-nutrients provide a daily dose of nutritious vitamins and mineral. Leaves hair moisturized and nourished and more disciplined, the hair feels silky soft for that special touch of cashmere feel. How to use: Apply to wet hair immediately after Ultra Moist Shampoo,or after the rinse out treatment for extremely dry or unruly hair. Leave-in and proceed to dry or style hair.

$28.00

SDL STRONG MOUSSE old name-Diamante Illuminating Strong Mousse     8.45oz <!br> <!/span><!br> This item is DISCONTINUED by the manufacturer.




Microcrystalline molding Mousse adds texture and natural movement to straight hair or defines curls without stiffness or excessive build-up on curly hair. Its innovative formula conditions hair and delivers exceptional shine.

$22.00

Shine Daily Serum yellow     1.7 fl. oz <!br> <!/span><!br>


an actual polish for the hair that gives it exceptional and immediate brilliance. For daily use as a beauty serum.

$28.00

Nutri Seduction Pearl Shampoo     33 fl. oz. <!br> <!/span><!br>


Deep-down cleansing and nourishing for dry or frizzy hair, leaving it soft and smooth. This innovative formula, rich with Cashmere wool by-products and pearls of Vitamin E, it reinvigorates and protects the hair fiber without weighing it down. The hair rediscovers both body and vitality with a long-lasting scent. Directions: Apply evenly to wet hair. Massage and lather with warm water. Rinse thoroughly. Repeat if necessary

$44.00

Nutri Seduction Ultra Moist Shampoo     8.45 fl oz. <!br> - Other sizes/options. <!/span><!br> This item is DISCONTINUED by the manufacturer.




Ultra-moisturising shampoo gently cleanses and nourishes very dry hair. The special formula containing Cashmere restores protein to strengthen the capillary fiber while nutrients extracted from oats deliver lipids to help prevent dehydration. This rich but balanced nutrient formula leaves hair healthy, glossy and as soft as cashmere. How to use: Apply evenly to wet hair. Work into the hair with warm water, then rinse well. If necessary, repeat application.

$20.00

Nutri Seduction Ultra Moist Shampoo     33.8 fl. oz. <!br> - Other sizes/options. <!/span><!br> This item is DISCONTINUED by the manufacturer.




Ultra-moisturising shampoo gently cleanses and nourishes very dry hair. The special formula containing Cashmere restores protein to strengthen the capillary fiber while nutrients extracted from oats deliver lipids to help prevent dehydration. This rich but balanced nutrient formula leaves hair healthy, glossy and as soft as cashmere. How to use: Apply evenly to wet hair. Work into the hair with warm water, then rinse well. If necessary, repeat application.

$44.00

Reparitive Shampoo     33.8 fl. oz. <!br> <!/span><!br>


Alfaparf Midoll Di Bamboo Restructuring Shampoo an effective shampoo rich in vital remineralizing ingredients to assist in the process of restructuring the hair fiber. Action Nanocomplexes of Oligoelements restore the contents of essential Mineral Salts. Botanical extracts of Bamboo Marrow restore strength, elasticity and smoothness. Directions: Apply Alfaparf Midoll Di Bamboo Restructuring Shampoo to wet hair, massage, rinse well and proceed with the next specific. Repeat if necessary.

$42.00

SDL ILLUMINATION SHAMPOO old name-Semi di Lino Cristalli Illuminating Shampoo     33 oz <!br> <!/span><!br>


Alfaparf Semi Di Lino Illuminating Shampoo is a gentle, pH-balanced Microcrystalline Shampoo is uniquely formulated to cleanse hair while adding shine. Enriched with wheat proteins and diamond crystal, Alfaparf Semi Di Lino Illuminating Shampoo reinforces and protects the hair cuticle, leaving it soft, glossy and easy to comb.

$41.00

SDL ILLUMINATION SHAMPOO old name Semi di Lino Cristalli Illuminating Shampoo     8.45oz <!br> <!/span><!br>


Alfaparf Semi Di Lino Illuminating Shampoo is a gentle, pH-balanced Microcrystalline Shampoo is uniquely formulated to cleanse hair while adding shine. Enriched with wheat proteins and diamond crystal, Alfaparf Semi Di Lino Illuminating Shampoo reinforces and protects the hair cuticle, leaving it soft, glossy and easy to comb.

$18.00

Shine Daily Shampoo     8.45 fl oz. <!br> <!/span><!br>


Alfaparf Yellow Shine Shampoo Alfaparf Yellow Shine Shampoo cleanses gently and gives hair a new brilliance thanks to Photoreflective Micro-particles (present in Olive Oil). Aloe Vera brings hydration where needed.

$16.00

Shine Daily Shampoo yellow     33.8 fl. oz. <!br> <!/span><!br>


Alfaparf Yellow Shine Shampoo Alfaparf Yellow Shine Shampoo cleanses gently and gives hair a new brilliance thanks to Photoreflective Micro-particles (present in Olive Oil). Aloe Vera brings hydration where needed.

$34.00

Nutri Seduction Delicious Glaze     4.22 fl. oz. <!br> <!/span><!br>


Protects the definition and the shine of curls while rediscovering the hairs hydro-lipid balance. Its formula featuring Orchid Extracts and emollient fluids keeps the hair soft and elastic.

$24.00

Nutri Seduction Sublime Sorbet     5.29 fl. oz. <!br> <!/span><!br>


Hydrating sorbet for the hair, ideal for controlling the volume of dry or frizzy hair and to create long-lasting, defined and shiny curls. This innovative formula, rich with Orchid Extract and Lipid Amino Acids, conditions and softens hair while making it to style and guaranteeing a long-lasting anti-frizz effect. The hair rediscovers incredible softness and elasticity.

$24.00
Out of Stock
Semi di Lino Diamanti Illuminating Polish     1.7 oz <!br> <!/span><!br> This item is DISCONTINUED by the manufacturer.




A transforming polish that defines each strand and improves hair texture while giving a light, wet look with a flexible hold.

$20.00

Semi di Lino Frizz Control Smoothing Cream     5.29 oz. <!br> <!/span><!br>


This heat protective Microcrystalline Cream is ideal for quick, straight styles and high gloss effect. The formula contains Linseed Extract and copolymers for an anti-frizz that works immediately on soft hair without weighing it down. Light hold that amplifies shine without weighing down.

$21.00

Shine Finishing Spray yellow     3.3 fl. oz. <!br> <!/span><!br>


Yellow Shine Finishing Spray. A finishing touch to add even more light and beauty to the hair. Its formula, rich in Photoreflective Micro-particles, maximizes the hairs luminosity and leaves a light shield to protect from humidity. How to use: Spray on dry hair.

$16.00

Diamante Illuminating Thermal Protector     4.23 <!br> <!/span><!br>


Thermal Protection with High Shine A thermal protectant with microcrystalline, Alfaparf Semi di Lino Diamante Illuminating Thermal Protector imparts softness and shine to the hair while heat styling. Ideal for use with curling irons and flat irons. Humidity resistant. Directions for use Spray onto each section of hair immediately prior to flat ironing or curling

$24.00

Nutri Seduction Pure Veil     4.22 fl. oz. <!br> <!/span><!br>


Protects from the heat of straightening irons while preserving the rediscovered hydro-lipid balance of the hair. The formula featuring Orchid Extracts and Wheat Proteins prevents hair from drying for long-lasting smoothness and shine.Defined and smooth hair is protected from external agents.

$24.00
Out of Stock
Active Hair Power-Energy Concentrate For Men     6 x 0.33oz <!br> <!/span><!br>


Alfaparf Active Hair Power Energy Concentrate for Men inhibits the enzyme 5-alpha reductase, responsible for hair loss in men and combats hair follicle atrophy, activating hair growth. Alfaparf Hair Power Energy Concentrate for Men helps prevent hair loss. Alfaparf Active Hair Power Energy Concentrate for Men makes the hair stronger and more resilient.

$31.00

Semi di Lino Anti Age Revitalizing Lotion     6 x 0.43 oz <!br> <!/span><!br> This item is DISCONTINUED by the manufacturer.




Alfaparf Semi Di Lino Diamante Anti-Aging Revitalizing Lotion reinforces and protects hair fibre from harmful external aggressions. The formula is enriched with Sericin, providing optimum hydration and creating a barrier against the environmental factors that influence the ageing of hair. It gives strength and support to hair styles. Hair appears stronger, denser, extremely brilliant and silky with Alfaparf Semi Di Lino DDiamante Anti-Aging Revitalizing Lotion.

$31.00

Semi Di Lino Illuminating Essential Oil     12 vials of .43 oz each <!br> <!/span><!br>


An instant hair repair treatment that adds superior shine, softness, and luminosity to dull and dry hair. A highly nourishng Linseed Oil complex that contains Omega-3, Omega-6 Fatty Acids and Vitamin F. Meant to repair capillary fibers and seal the hair cuticle, making hair soft and smooth. Apply to towel-dried hair, comb through, leave on 5-7 minutes and then rinse out.

$52.00

Semi di Lino Illuminating Shine Lotion     12 vials of .43 oz each <!br> <!/span><!br>


A detangler and deep condtioner for unmanageable hair. Revitalizes while improving hairs strength. With Vitamin F this leave-in treament works wonders on hair elasticity and closes the hair cuticle. Use with Illuminating shine shampoo.

$52.00

Shine Intensive Treatment yellow     6 x 0.50 fl oz <!br> <!/span><!br>


Alfaparf Yellow Shine Intensive Treatment 6 x .50 oz Alfaparf Yellow Shine Intensive Treatment is infused with micro-molecules present in Olive Oil, combined with Vitamin F, to reinforce the lipid cement of the hair, filling porous zones that can make hair look dull. Alfaparf Yellow Shine Intensive Treatment perfectly closes the hair cuticle, to make hair seem instantly brighter.

$27.00

UPC: 8032679457924