Barex Olioseta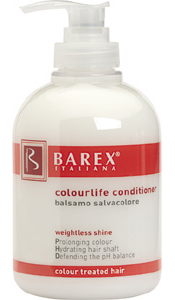 Colourlife Conditioner

Prolonging colour Hydrating hair shaft Defending the pH balance Deep action conditioner to lock-in colour. Barex ColourLife Conditioner is ideal for coloured, bleached and highlighted hair to moisturize and balance the natural pH value and enhance and prolong the life of colour. Milk derived factors seal the cuticle while blocking and protecting pigments.
UPC: 8006554011082
 
Colourlife Conditioner
SIZES:

8.45 oz
$30.00
............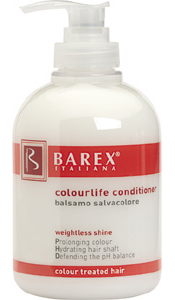 Discontinued!
Details


Glass Cristalline     1.69 fl oz. <!br> <!/span><!br>


Flawless Radiant Smoother super straight styles Clearly and decidedly, Barex Glass Cristalline guarantees a perfect smooth style for curly, frizzy and untameable hair. Protects hair from humidity while creating a radiant, glassy finish. Contains sun filters.

$23.00
Out of Stock
Nutririch Serum Tricolife(split End) Serum     1 fl. oz. <!br> <!/span><!br> This item is DISCONTINUED by the manufacturer.




Save the life of your hair. Split-end control Barex Tricolife spells the end of split-ends and the beginning of shiny, smooth and frizz-free hair. This heavenly product protects from the heat source and prevents colour oxidization. Especially recommended for coarse, thick hair.

$30.00

Colourlife Conditioner     8.45 oz <!br> <!/span><!br> This item is DISCONTINUED by the manufacturer.




Prolonging colour Hydrating hair shaft Defending the pH balance Deep action conditioner to lock-in colour. Barex ColourLife Conditioner is ideal for coloured, bleached and highlighted hair to moisturize and balance the natural pH value and enhance and prolong the life of colour. Milk derived factors seal the cuticle while blocking and protecting pigments.

$30.00

Shine Supreme (Gloss Conditioner)     8.5 oz <!br> <!/span><!br>


Perfect everyday conditioner with eternal shine. Same as Shine Supreme Conditioner gentle daily use conditioner for all hair types detangles and moisturizes Barex Gloss Conditioner is a daily conditioner for all hair types. It enhances shine while detangling and eliminating static electricity. Surrounds the hair shaft leaving the hair moisturized and strengthened without adding weight.

$29.00

Ultimate Relaxing Masque     6.76oz <!br> <!/span><!br>


The perfect mask for rebellious, frizzy and curly hair without making it flat or dull. Reduces blow drying and/or ironing time.

$42.00

JOC Absolute Smoothness Cream     200 ml <!br> <!/span><!br>


With Linseed Oil and Magnolia. JOC Absolute Smoothness Cream better than Barex Thermal Smoother Ultra smoothing and straightening effect. Smooths out the cuticle, controls excess colume and deliveres extreme shine.

$1,834.00

Oro del Marocco     5.07 oz <!br> <!/span><!br>


Barex Italiana OlioSeta Soleil Protective Hair Oil With Argan Oil & Macadamia Oil (5.07 oz.)

$52.00

Ultimate Relax Mask     8.45 oz <!br> <!/span><!br>


Take control of defiant frizz! Barex Italiana UltimateRelax Mask is a deep-nurturing treatment that smoothes out coarse, unruly hair and regulates excess volume. Hair is repaired, decreasing frizzies and providing lasting manageability.

Barex Italiana UltimateRelax Mask Features & Benefits:

De-frizzes and smoothes with long-lasting results.
Repairs and nurtures.
Controls volume.
Contains Certified Organic Ingredients including Argan Oil and Passionflower.
Dermatologically tested.

How To Use Barex Italiana UltimateRelax Mask: After using UltimateRelax Shampoo, apply onto towel-dried hair. Comb through and let stand for 2-3 minutes. Rinse well.

$42.00

JOC Volumizing Mousse- - old name Gloss MousseNormal Hold     14.14 oz <!br> <!/span><!br>


JOC Volumizing Mousse-Medium Hold (old name Gloss MousseNormal Hold ) adds volume to hair giving remarkable flexible hold and removing static electricity. This mousse delivers body and support to the hair without weighing it down, leaving it shiny and protected. Conditioning polymers provide body, volume and bounce. Ideal for blow-drying.

$34.00

JOC Volumizing Mousse-Medium Hold - 10.14 oz.     10.14 oz. <!br> <!/span><!br>


JOC Volumizing Mousse-Medium Hold adds volume to hair giving remarkable flexible hold and removing static electricity. This mousse delivers body and support to the hair without weighing it down, leaving it shiny and protected. Conditioning polymers provide body, volume and bounce. Ideal for blow-drying. JOC Volumizing Mousse-Medium Hold Features and Benefits: Gives body, volume and bounce. exceptional elastic hold. Doesn t weigh hair down. Leaves hair shiny and protected. How To Use JOC Volumizing Mousse-Medium Hold: Shake well, turn can upside down and apply one or two pumps of product onto washed and towel dried hair, spreading evenly with the help of a comb. Proceed with styling. JOC Volumizing Mousse-Medium Hold Key Ingredients: Panthenol.

$34.00

Glossing Pomade glossing wax by sht     1.69 fl. oz stick <!br> <!/span><!br> This item is DISCONTINUED by the manufacturer.




Flexible Structure Perfect Finish Barex Glossing Pomade gives shape to hairstyle while adding gloss and shine.

$29.00

Gloss Shampoo ShineSupreme     8.5 oz <!br> <!/span><!br>


Gentle Daily Use Shampoo for all hair types perfect way to start your day Barex Gloss Shampoo is a gentle daily shampoo that keeps its promises of high shine and softness. Balances scalp, prevents colour oxidization and magnificently hydrates. Suitable for all hair types.

$28.00

NutriRich Mask     8.45oz <!br> <!/span><!br>


intensely replenishing for dry and damaged hair

$38.00

Oro Di Luce Shine shampoo old name Shine Supreme Shampoo     25.36 oz <!br> <!/span><!br>


Shine Supreme Shampoo An ideal line for damaged, chemically treated, hard to control and frizzy hair, OLIOSETA Oro del Marocco takes care of hair through a complete range of treatment and styling products formulated with certified organic Argan and Linseed Oils. The results are extraordinary: hair instantly gains strength, softness, body and shine.

$60.00

Cristalli Liquidi     2.53 fl oz. <!br> <!/span><!br> This item is DISCONTINUED by the manufacturer.




Suggest ODL Shine Serum New Bigger Bottle. Travel no further...for those seeking velvety shine and ultimate control. Lock out humidity and frizz. Barex Cristalli Liquidi has porosity control with added volume. Always the first step for professionals as a cutting tool. Contains sun filters, for all hair types.Apply to wet hair, comb through and style to your heart's content.

$35.00

Oro Di Luce heat protect cream - Orig Name: UltimateRelax Thermal Smoother (Re-Define Creme)     5.1 fl. oz. <!br> <!/span><!br>


Show tough frizzies & curls who is the boss.

This quintessential creme tames frizzies and allows flexible control. Barex Re-define Creme highly admired and sought after product by top professionals due to its amazing performance. This all in one product offers a humidity-proof shield that allows to maintain a sleek straight style or define natural curls.

For well-defined curls apply evenly to damp hair and leave to dry naturally. For a straight look brush into dry hair with a flat brush. Do not rinse.

$34.00

SHT Modelling Paste (old name Gum Gum)     1.69 fl. oz <!br> <!/span><!br> This item is DISCONTINUED by the manufacturer.




holds, molds and sculpts Adoring modeling paste for anyone desiring medium hold with perfect definitions. Shapes, molds and sculpts while adding shine.

$33.00

UPC: 8006554011082