Searching for: Close-Outs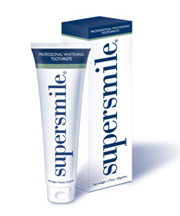 Supersmile Whitening Toothpaste Original Mint
4.2 oz tube


Dissolves the protein pellicle to which plaque, stain and bacteria attach without harmful bleaches or abrasives. Patented formula contains Calprox to whiten baking soda for fresh breath and healthy gums and ADA recommended fluoride to prevent cavities. Removes surface stains such as coffee, tea, tobacco, red wine, etc. 4.2oz tube lasts 3 months.
---
---
Visit Regular site • Contact US

<!img src='/images/free-shipping.jpg' width=310>


We are located in
Burbank, CA. USA
(818) 761-1778
931816

Copyright © 2020 www.diamondbeauty.com
ALL RIGHTS RESERVED • WebDesign by artsci.net