Searching for: Cellex-C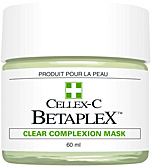 Betaplex Clear Complexion Mask
2 oz


For all but the most sensitive skin types. Contains 3 percent alpha and beta hydroxy acids plus botanical extracts in a rich, creamy formulation designed to gently exfoliate and condition the skin to achieve, a clear, fresh, youthful complexion. Anti-microbial, antiseptic and healing qualities in botanical extracts of rosemary, peppermint and echinacea help promote a clear, fresh, radiant complexion. Use once a week or twice if your skin is very oily.
---
---
Visit Regular site • Contact US

<!img src='/images/free-shipping.jpg' width=310>


We are located in
Burbank, CA. USA
(818) 761-1778
927965

Copyright © 2020 www.diamondbeauty.com
ALL RIGHTS RESERVED • WebDesign by artsci.net