Searching for: Joico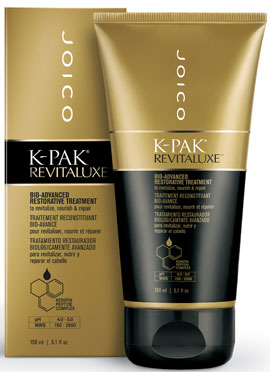 K-PAK RevitaLuxe Restorative Treatment
5.1 oz


The RevitaLuxe Restorative Treatment features Joico's new bio-advanced, patent-pending, Keratin Peptide Complex which actually mimics the natural hair repair mechanism that exists deep within the cortex of each hair strand.

This complex features bio-mimetic peptides that actively target and rebuild weak, damaged and broken areas on the hair, instantly strengthening and rejuvenating. Tests on actual salon clients show that after just one use, hair contains four times as many healthy keratin peptides as it did before application; and after three days of use, it contains more than seven times as many peptides. This means that in addition to repairing existing damage, RevitaLuxe continues repairing and it stands guard against future damage from chemical, environmental and thermal stressors by creating a "molecular bandage" on the hair surface. It also helps prevent premature color fading and maintains color luster.
---
---
Visit Regular site • Contact US

<!img src='/images/free-shipping.jpg' width=310>


We are located in
Burbank, CA. USA
(818) 761-1778
922296

Copyright © 2020 www.diamondbeauty.com
ALL RIGHTS RESERVED • WebDesign by artsci.net