Searching for: DS-Laboratories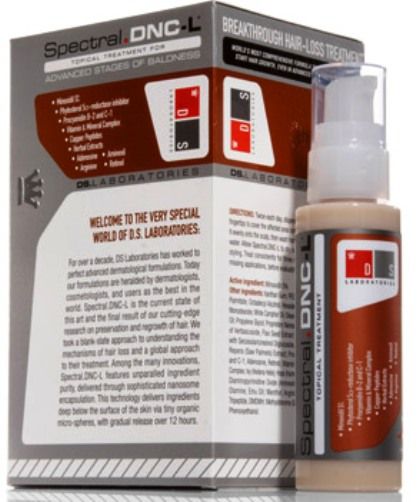 Spectral DNC-L Topical Treatment for Advanced Stages of Baldness
60 ml


Indicated for men with advanced baldness, Spectral DNC-L delivers the most powerful, effective and aggressive topical hair loss treatment.  In a cream base for east application without dripping, this potent formula includes research-grade minoxidil, a proprietary phytosterol-5a-reductase inhibitor to suppress the dihydrotestosterone that triggers male pattern baldness, antioxidants to detoxify free-radicals, botanicals to combat fungal colonization and reduce sebum, retinol to accelerate cell turnover, arginine as a biochemical precursor to nitric-oxide, copper peptides to repair follicles, pyrocyanidins to support epithelial and mesenchymal cells, and other clinically proven ingredients that stimulate hair growth for a complete and coordinated approach.  The use of nanosome encapsulation further boosts efficacy with improved absorption and more targeted application.
---
---
Visit Regular site • Contact US

<!img src='/images/free-shipping.jpg' width=310>


We are located in
Burbank, CA. USA
(818) 761-1778
939714

Copyright © 2020 www.diamondbeauty.com
ALL RIGHTS RESERVED • WebDesign by artsci.net