Searching for: E.L.C.--Pure-Olive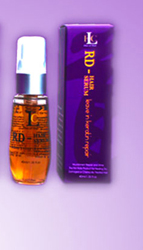 RD Hair Serum Leave In Keratin Repair
1.35 fl. oz.


RD Hair Serum is attracted to anionic (damaged) sites for instant repair.  Cationic ions with hydrolyzed keratin protein repair all layers of the hair structure unlike most serums that are topical only.  Superior UV + Thermal protection while preserving haircolor.
---
---
Visit Regular site • Contact US

<!img src='/images/free-shipping.jpg' width=310>


We are located in
Burbank, CA. USA
(818) 761-1778
277291

Copyright © 2019 www.diamondbeauty.com
ALL RIGHTS RESERVED • WebDesign by artsci.net