Searching for: Instantly-Ageless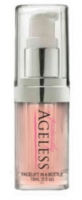 Facelift In A Bottle (Package change to Vials)
0.5 oz.


Our Wrinkle Eliminating System features the amazing Instantly Ageless! This incredible Instant Face Lift In A Bottle gives you instant gratification, and instant results! Actually lifting, firming, minimizing pores, tightening, and erasing wrinkles, fine lines, and puffiness from your skin in seconds. These dramatic results last 8 - 12 hours with just one application! So you can look great all day or even all night long!
---
---
Visit Regular site • Contact US

<!img src='/images/free-shipping.jpg' width=310>


We are located in
Burbank, CA. USA
(818) 761-1778
673649

Copyright © 2020 www.diamondbeauty.com
ALL RIGHTS RESERVED • WebDesign by artsci.net