Searching for: Ces-Cheveux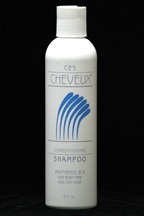 Conditioning Shampoo, Panthenol B-5
32 fl. oz.


For baby fine hair and dry hair. Contains all natural keratin proteins, acid balanced, helps replace lost moisture, adds luster and sheen, so gentle, can be used daily. Highly recommended for ethnic use, may help with Psoriasis of the scalp.
---
---
Visit Regular site • Contact US

<!img src='/images/free-shipping.jpg' width=310>


We are located in
Burbank, CA. USA
(818) 761-1778
677612

Copyright © 2020 www.diamondbeauty.com
ALL RIGHTS RESERVED • WebDesign by artsci.net