Searching for: Cellex-C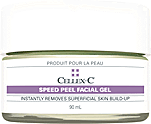 Speed Peel Facial Gel
90 ml


This pale green mask with a light minty scent is a great new way to rev up your complexion. Speed Peel contains a fig extract (ficin) that rapidly dissolves dead skin cells and is actually more powerful than the commonly used papaya extract, papain. It also has bamboo extract to slough away dead skin and bitter orange peel to loosen excess skin cells. Plus Jojoba oil, Peppermint, algae, yucca and melon extract. The perfect product to jump start your skin and leave your complexion smooth and radiant.
---
---
Visit Regular site • Contact US

<!img src='/images/free-shipping.jpg' width=310>


We are located in
Burbank, CA. USA
(818) 761-1778
929629

Copyright © 2020 www.diamondbeauty.com
ALL RIGHTS RESERVED • WebDesign by artsci.net