Searching for: Baxter-of-California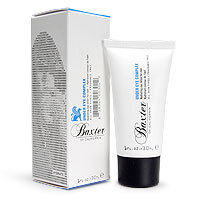 Under Eye Complex -out until jan 2015-
1 oz.


Under Eye Complex - Ideal for all skin types. Is a nutrient packed serum enriched with gingko biloba, rose hips seed oil and aloe vera gel that minimizes puffiness and fluid build up. Fights off dark circles, and lifts and tones the sagging, delicate skin surrounding the eyes. Apply a small amount daily around the eye area each morning and evening, then gently massage in thoroughly. Avoid pulling or rubbing while you apply. Use the ring finger it is the most gentle around the eye and lip area.
---
---
Visit Regular site • Contact US

<!img src='/images/free-shipping.jpg' width=310>


We are located in
Burbank, CA. USA
(818) 761-1778
924814

Copyright © 2020 www.diamondbeauty.com
ALL RIGHTS RESERVED • WebDesign by artsci.net