Searching for: Hamadi-Hair-Care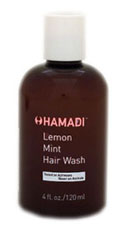 Lemon Mint Hair Wash, Shampoo/Color Protector for Blond Hair
4 oz.


Lemon Mint Hair Wash. Essential Oils: Peppermint, Green Mint, White Cedar and Lemongrass. Removes product and environmental build-up. Protects against chlorine discoloration and seals in existing color. Leaves hair and scalp feeling buoyant. refreshed and pampered.
---
---
Visit Regular site • Contact US

<!img src='/images/free-shipping.jpg' width=310>


We are located in
Burbank, CA. USA
(818) 761-1778
928005

Copyright © 2020 www.diamondbeauty.com
ALL RIGHTS RESERVED • WebDesign by artsci.net