Searching for: Ayur-Medic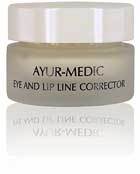 Eye and Lip Line Corrector
0.525 fl. oz.


Eye And Lip Line Corrector - Specifically formulated for the wrinkle prone areas around the eyes and mouth. Rich in natural silicone based ingredients and retinol which have a positive action on rebuilding and supporting devitalized skin. Additionally special Algae and herbs have been introduced into this formulation to help reduce inflammation and help to combat free radical activity.
---
---
Visit Regular site • Contact US

<!img src='/images/free-shipping.jpg' width=310>


We are located in
Burbank, CA. USA
(818) 761-1778
929740

Copyright © 2020 www.diamondbeauty.com
ALL RIGHTS RESERVED • WebDesign by artsci.net