Searching for: Ayur-Medic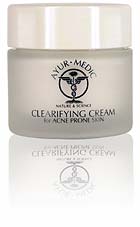 Clearifying Cream, for Oily to Acne Skin
2 oz.


An oil free moisturizer recommended for oily and acne prone skin. Helps to combat blemishes and clarify skin while maintaining hydration. Reduces inflammation. Key ingredients: Comfrey ext., aloe vera gel, burdock root, neem ext., rosemary ext., allantoin, algisisim-C DSBC, salicylic acid and triclosan.
---
---
Visit Regular site • Contact US

<!img src='/images/free-shipping.jpg' width=310>


We are located in
Burbank, CA. USA
(818) 761-1778
915115

Copyright © 2020 www.diamondbeauty.com
ALL RIGHTS RESERVED • WebDesign by artsci.net