Searching for: Ayur-Medic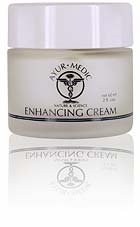 Enhancing Cream, for Dry Skin
2 oz.


Enhancing Cream, 2 oz. - A light nourishing cream that helps contribute to the protein synthesis in the skin, aiding in the development of collagen and elastin, which reduces the appearance of fine lines and wrinkles. Key Ingredients: DHCA complex, arnica ext., avocado oil, chamomile ext., liposomes A,C, & E, panthenol, and sodium PCA.
---
---
Visit Regular site • Contact US

<!img src='/images/free-shipping.jpg' width=310>


We are located in
Burbank, CA. USA
(818) 761-1778
705375

Copyright © 2020 www.diamondbeauty.com
ALL RIGHTS RESERVED • WebDesign by artsci.net