Searching for: Ayur-Medic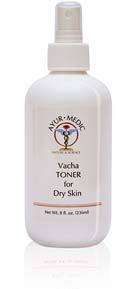 Vacha Dry Skin Toner, Dry to Sensitive Skin
8 oz.


Vacha Dry Skin Toner, 8 oz. - This toner is used to complete the cleansing process and uses Hibiscus Acid to diminish fine lines, wrinkles and other signs of aging while maintaining maximum moisture. Maximizes penetration of serums and creams. Key Ingredients: Vacha, Hibiscus Acid and Essential Oil of Rose.
---
---
Visit Regular site • Contact US

<!img src='/images/free-shipping.jpg' width=310>


We are located in
Burbank, CA. USA
(818) 761-1778
928068

Copyright © 2020 www.diamondbeauty.com
ALL RIGHTS RESERVED • WebDesign by artsci.net