Prive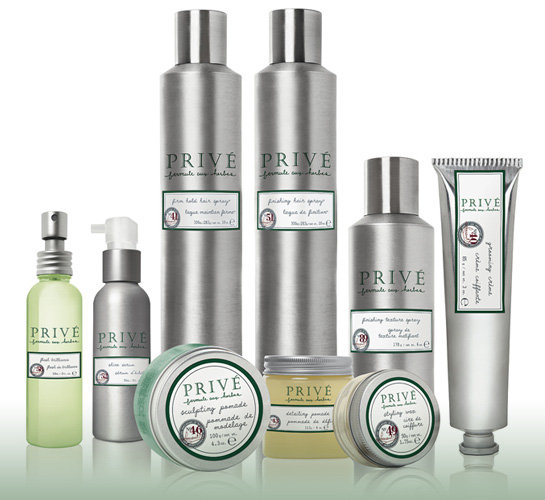 Prive hair products
FIRST COME, FIRST SERVED. While supplies Last. August 2017, Prive has been discontinued, We have a few items left in stock.

We have been told the new owner will reintroduce the Prive line in November 2017.


Prive hair products have all it takes to make your hairs look fantastic. The hair products are simply effective on any type of hair because they are made of high quality. Prive hair products are made by a well knowledgeable stylist. The ingredients used in making these products are purely natural. The benefits of using these hair products are derived from the facts that they are made with natural herbs that have been confirmed to have great medicinal value. You do not need to be told of the importance of going green or living an eco friendly life today.

Concept Vert Rejuvenating Pure Conditioner 102     6.7 oz. <!br> <!/span><!br>


Enriched with Amazon acai and babassu oil, Prive CONCEPT VERT #102 is a penetrating conditioner that rejuvenates hair with potent antioxidants and healing strengtheners.  This nourishing, high-yield formula expands into a rich, creamy foam that leaves the hair soft, shiny and supple.

$30.00

Reparative Conditioner     8.5 oz. <!br> - Other sizes/options. <!/span><!br>


Enriched with aloe vera and orchid, Herbal Blend #6 delivers moisture, softness and shine in an ultra-rich shampoo.  This unique formula cleanses while rejuvenating chemically damaged hair. 

$32.00

Reparative Conditioner     16.9 oz. <!br> - Other sizes/options. <!/span><!br>


Enriched with aloe vera and orchid, Herbal Blend #6 delivers moisture, softness and shine in an ultra-rich shampoo.  This unique formula cleanses while rejuvenating chemically damaged hair. 

$42.00

Reparative Conditioner     33 oz. <!br> - Other sizes/options. <!/span><!br>


Enriched with aloe vera and orchid, Herbal Blend #6 delivers moisture, softness and shine in an ultra-rich shampoo.  This unique formula cleanses while rejuvenating chemically damaged hair. 

$64.50

Thermal Protection Detangling Spray 30     6 oz. <!br> <!/span><!br>


Enriched with cactus, bamboo and kelp, Herbal Blend #30 deeply penetrates the cuticle to deliver excellent conditioning and detangling, while protecting against hot tool damage.  This unique, lightweight spray departs exceptional sheen to the hair, which brightens haircolor and makes hair easier to style. 

$23.00

Finishing Texture Spray 89     6.7 oz. <!br> <!/span><!br>


Herbal Blend #89 is formulated with echinacea, gingko, and betula alba. Herbal Blend #89 delivers maximum texture, weightless volume, and medium hold with a semi-matte finish.

$28.50

Flash Brilliance 58     2 oz. <!br> <!/span><!br>


Herbal Blend #58 is blended with Chamomile, Lemongrass, and Balm Mint. Herbal Blend #58 ultra fine spray adds instant higher brilliance and a smooth sexy texture to any type of hair. Controlls frizz. Hot tools favorite. UV protector.

$25.00

Firm Hold Hair Spray 41     10 oz. <!br> <!/span><!br>


Herbal Blend #41 provides long-lasting, firm hold in a quick-drying, shine enhancing spray.

$26.00

Leave-In Treatment 24     8.5 oz. <!br> <!/span><!br>


Enriched with comfrey and kelp, Herbal Blend #24 restores hairs vitality while delivering ultimate conditioning and protection.  Softens and smoothes to control frizz and flyaways as it detangles and prevents breakage.  All hair types are left revitalized with a soft, silky shine and beautiful body and bounce. 

$26.00

Detailing Pomade 43     4 oz. <!br> <!/span><!br>


Provides a light, flexible hold for adding texture, definition and shine. 

$25.00

Amplifying Shampoo 9     8.5 oz. <!br> <!/span><!br>


Enriched with nettle and white ginger, Herbal Blend #9 delivers thickness and volume in an amplifying shampoo.

$22.00

Concept Vert Rejuvenating Pure Shampoo 101     6.7 oz. <!br> <!/span><!br>


Enriched with Amazon acai and babassu oil, Prive CONCEPT VERT no.101 rejuvenates hair with antioxidants and strengtheners as it gently nourishes and cleanses.  This high-yield formula expands into a rich, creamy foam leaving the hair feeling and looking shiny and healthy.

$35.00

Daily Shampoo     8.5 oz <!br> - Other sizes/options. <!/span><!br>


Enriched with chamomile and quillaja, Herbal Blend #4 effectively cleanses hair and scalp in a gentle shampoo.

$21.00

Daily Shampoo     16 oz <!br> - Other sizes/options. <!/span><!br>


Enriched with chamomile and quillaja, Herbal Blend #4 effectively cleanses hair and scalp in a gentle shampoo.

$29.00

Reparative Shampoo 6     8.5 oz. <!br> <!/span><!br>


Enriched with aloe vera and orchid, Herbal Blend #6 delivers moisture, softness and shine in an ultra-rich shampoo.  This unique formula cleanses while rejuvenating chemically damaged hair. 

$21.00

Reparative Shampoo no.6     16.9 oz. <!br> - Other sizes/options. <!/span><!br>


Enriched with aloe vera and orchid, Herbal Blend #6 delivers moisture, softness and shine in an ultra-rich shampoo.  This unique formula cleanses while rejuvenating chemically damaged hair. 

$28.00

Reparative Shampoo no.6     33 oz. <!br> - Other sizes/options. <!/span><!br>


Enriched with aloe vera and orchid, Herbal Blend #6 delivers moisture, softness and shine in an ultra-rich shampoo.  This unique formula cleanses while rejuvenating chemically damaged hair. 

$51.00

Volumizing Dry Shampoo 10     4.2 oz <!br> <!/span><!br>


Enriched with ginkgo biloba, green tea and soy, Herbal Blend #10 imparts incredible volume instantly while cleansing the scalp and hair without using any water. Even baby fine hair is left full of amazing body, texture and grip to hold any style.

$29.00

Concept Vert Volumizing Froth     2.53 oz <!br> <!/span><!br>


Enriched with Amazon Acai and babassu oil, Prive Concept Vert #110 is a revolutionary non-aerosol mousse that provides incredible body, volume and definition. This nourishing foaming cream amplifies your style while leaving hair soft, shiny and full of bounce.

$27.00

Grooming Creme 40     3 oz. <!br> <!/span><!br>


Herbal Blend #40 provides body and definition in a lightweight crème while controlling frizz.

$23.00

Relaxing Gel     6 oz. <!br> <!/span><!br>


Herbal Blend #34 is the perfect two-in-one product for either straightening hair or defining curl.

$22.00