Intaglio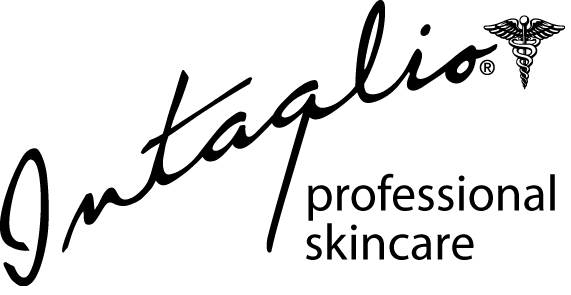 Intaglio Cosmeceuticals -- Medical Strength Skin Care For Use At Home!
History
Intaglio is an advanced line of cosmeceuticals products designed to provide solutions and results for aging, acne and hyper pigmented skins. Over the years, through continued research and development, Intaglio has succeeded in delivering the most advanced pharmaceutical grade formulas on the market. Intaglio was first introduced to professionals in the medical and spa industry to provide quality treatments along side professionally outlined home care maintenance programs to deliver fast and dramatic results with a life time skin care commitment.

Quality
Intaglio products are developed and manufactured in FDA approved laboratories with over 10 years of clinical studies and hands on application by plastic surgeons, dermatologists and aestheticians world wide to bring you the most revolutionary skin care products on the market. Through continued research and development, our expert chemists strive to formulate the most advanced pharmaceutical grade ingredients to resurface, repair and protect your skin.

Intaglio's dynamic facial procedures were designed to provide a unique experience for salons, spas, medical establishments along with in home skin care programs. Our Skin Therapy Treatments apply the very latest techniques and procedures which provide fast and dramatic results.

Skin Nourishing Soothing Cream     1 oz <!br> <!/span><!br>


An anti-inflammatory cream that reduces erythema. Using a new technology of avocado and fractional distillates of lemon rind and hops with Vitamin K to soothe and calm skin.

$49.00

Facial-Body Cleanser 3%     5 oz <!br> <!/span><!br>


A cleanser that removes dirt and oil and is excellent for face, body and hair. Mild exfoliation via 3% glycolic acid that cleans thoroughly but mildly. A terrific cleanser for those suffering from hyperpigmentation.

$30.00

Skin Nourishing Theraputic Cleanser     5 oz <!br> <!/span><!br>


A gentle cleanser for sensitive or irritated skin. Gently removes make-up and impurities without depleting moisture and is antibacterial.

$32.00

FMO Purifying Mask     1.7 oz <!br> <!/span><!br>


A medicated mask to help control blemishes while reducing redness and inflammation. Contains 1% salicylic acid as an active ingredient.

$46.00

Hydrating Moisturizer     1.7 oz <!br> <!/span><!br>


This moisturizer is highly effective for even very dry skin. Protective and great for restoring skins natural moisture balance.

$29.00

Moisturizing Sunscreen Lotion, SPF 15     1.7 oz. <!br> <!/span><!br>


Sunscreen Lotion - Provides sun protection, developed especially for oliy skin. Absorbs immediately. Protects skin from damaging ultraviolet rays. UVA, UVB, SPF.

$20.00

Revitalizing Cream -10     1.0 oz <!br> <!/span><!br>


A high performance resurfacing night cream containing 10% glycolic acid to provide exfoliation and hydration in the evening. This rich cream helps to reduce scars caused by acne, smoothes rough, dry skin textures and visibly reduces the appearance of fine lines and wrinkles

$29.00

Skin Nourishing Vitamin A Emollient 7%     1 oz <!br> <!/span><!br>


A skin enhancer with visible effects of impoved skin health and beauty. Thickens the epidermal layer and softens lines. Contains 7% Retinyl Palmitate, a Vitamin A derivative.

$85.00

Skin Resurfacing Glycolic Day Lotion 10%     1.7 oz <!br> <!/span><!br>


Skin Resurfacing Glycolic Day Lotion 10% . A lotion to help with fine lines and dull looking skin. Made especially for oily skin

$24.00

Moisturizing Sunscreen Cream for dry skin spf 15     2.oz <!br> <!/span><!br>


A sunscreen cream containing no glycolic acids. Factual Points: Provides sun protection. Developed especially for dry or aging skin. Absorbs immediately with light moisturizing benefits. Protects from damaging ultraviolet rays, UVA & UVB. No glycolic acids. Contains Avobenzone (Parsol 1789). SPF-15 +. pH: 3.7-3.9. Directions: Apply lotion every morning after treatment products to protect from UV rays. Follow with make-up if desired. Useful Tips: Can be used on all parts of the body as a sunscreen. A must for clients trying to control hyperpigmentation. Great for travel or outdoor trips. A product the whole family can use

$29.00

Moisturizing Sunscreen Lotion SPF 15     1. 7 oz <!br> <!/span><!br>


A sunscreen cream containing no glycolic acids. Factual Points: Provides sun protection. Developed especially for dry or aging skin. Absorbs immediately with light moisturizing benefits. Protects from damaging ultraviolet rays, UVA & UVB. No glycolic acids. Contains Avobenzone (Parsol 1789). SPF-15 +. pH: 3.7-3.9. Directions: Apply lotion every morning after treatment products to protect from UV rays. Follow with make-up if desired. Useful Tips: Can be used on all parts of the body as a sunscreen. A must for clients trying to control hyperpigmentation. Great for travel or outdoor trips. A product the whole family can use. Continue to use daily after treatments (laser, peels or taking a break from glycolic). May be used on all areas of the body.

$20.00

Skin Nourishing Replenishing Toner     5. oz <!br> <!/span><!br>


A nourishing toner with antioxidants that assist in recovery of the skin barrier. Soothing, Hydrating and protective against ultraviolet rays. Oil-free.

$34.00

Skin Resurfacing Astringent 8%     5 oz <!br> <!/span><!br>


Tones and removes excess oil and dirt. A great product for oily or acne-prone skin and also a great step to prepare skin to get the maximum result from theraputic products.

$37.00

Skin Nourishing Vitamin C Emollient     1 oz <!br> <!/span><!br>


A great product that increases collagen formation, inhibits UVA/UVB skin damage and contains pycnogenol - a powerful antioxidant.

$85.00

Skin Resurfacing Recovery Gel     1 oz <!br> <!/span><!br>


An antioxidant gel that helps protect skin from free radical damage and increases blood flow and oxygen consumption while promoting skin elasticity and regenetation.

$86.00

Skin Resurfacing Resurfacing Gel 15%     5 oz <!br> <!/span><!br>


Improves skin thats rough, dull, poxed or dry due to age, sun damage or acne. Uses 15% glycolic acid that drastically reduces the build-up of dead skin cells and smoothes lines and scars.

$40.00