Image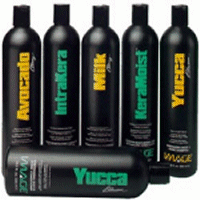 Image Hair Care Profession Products

Most Image Products are BACKORDERED FROM THE MANUFACTURER. Reports we have been given state that some legal issue is preventing the reproduction of the products. Resolution is expected but no time frame has been set(this was writted in Feb, 2017)





Image Hair Products are a favorite among hair care professionals and consumers who require the latest haircare technology in putting together a natural and pure formula. Image products are not tested on animals. The Intrakera, Jumping Curls, and Shine Plus have been a favorite among hair stylists across the nation.



 
IntraKera     10 oz <!br> - Other sizes/options. <!/span><!br>


IntraKera - leave-in protein and moisture treatment. Deep penetrating, works to restructure and restore damaged and chemically treated hair with natural proteins.

$15.00

IntraMoist Ca Problem     33.8 oz <!br> <!/span><!br>


IntraMoist - Penetrates deep into dry, dull, lifeless hair to replenish moisture from within. Reinforces the hairs vital moisture content leaves hair soft and silky with outstanding body, bounce, and shine.

Regular: $49.00
SAVE: $3.00
Your Price: $46.00


IntraPak     33.8 oz <!br> <!/span><!br>


IntraPak - Infuses hair with maximum protein to rebuild extremely damaged hair from the inside out. Reconstructs and reconditions permed, colored, relaxed or environmentally damaged hair.

$55.40

| | | |
| --- | --- | --- |
| | PH Fusion     10.2 fl oz. <!br> <!/span><!br> | $10.50 |
Freez, Non-Aerosol     33.8 oz <!br> <!/span><!br>


Freez - Extra hold finishing mist. Delivers lift, hold and shine.

Regular: $48.00
SAVE: $2.00
Your Price: $46.00


Zero Proof Hair Spray, Alcohol Free     10 fl. oz. <!br> <!/span><!br>


Zero Proof - Incredible hold will stand up to 90% humidity. Body building formula that is brushable and non drying to the hair. Not damaging to the hair and scalp. Herbal extract complex gives natural and healthy looking style. Alcohol free and non-flaking.

$13.70

IntraKera Shampoo     33.8 oz <!br> <!/span><!br>


Image Intrakera Shampoo - Moisture Treatment Shampoo Cleansing Complex - 33.8 oz

$46.00

Yucca Blossom Shampoo, For Hair Needing Body     10 oz <!br> - Other sizes/options. <!/span><!br>


Yucca Blossom Shampoo - Adds energizing body and shine. Infuses hair with energy and body. Protects hair from thermal and environmental damage.

$9.40

Shine Plus Hair Paste     4 oz. <!br> <!/span><!br>


Shine Plus Hair Paste - Thickening/Shining mega hold for flexible styling.

$14.60

Shine Plus Silica Hi-Gloss Drops     3.4 oz <!br> <!/span><!br> This item is DISCONTINUED by the manufacturer.




Shine Plus Silica Hi-Gloss Drops - Finishing drops that add lister and deep, concentrated shine to any type of hair. Gives hair a lustrous shine with a silky smooth, non-greasy texture.

Regular: $26.00
SAVE: $2.00
Your Price: $24.00